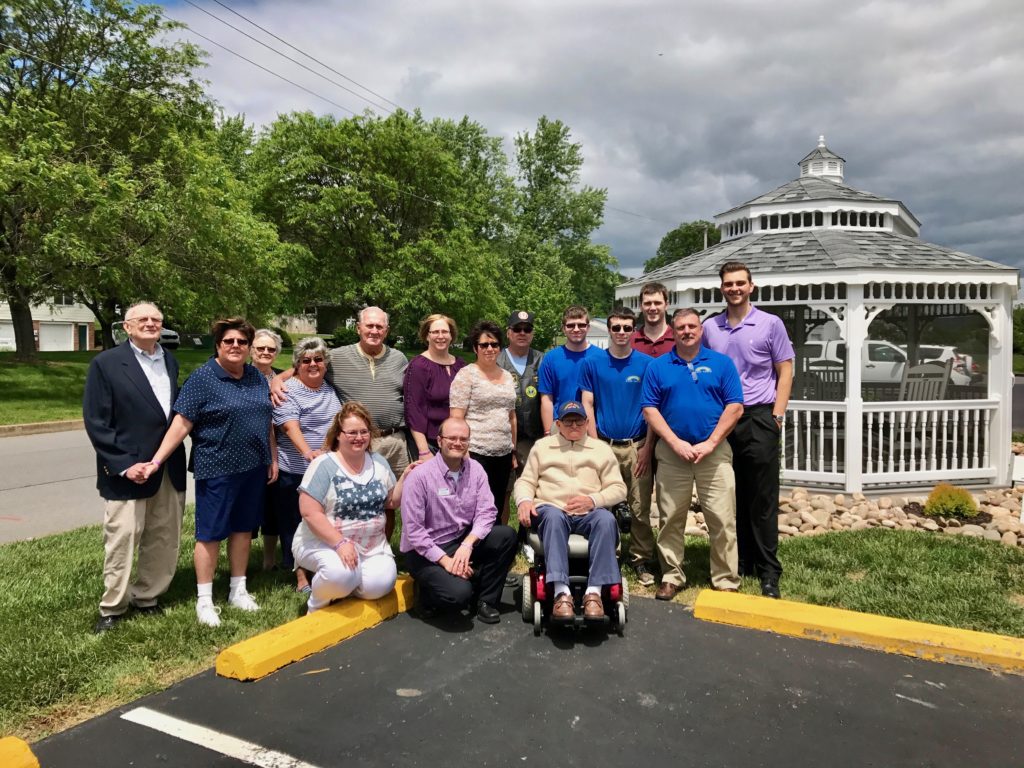 The family of Bruce T. Smith, Jr., and representatives of SUN Tech and the Central PA Chamber of Commerce gather outside of Emmanuel Home, Northumberland, with the electric wheelchair presented to the home on Friday, May 26. In front, are: Tea Jay Aikey, Finance & Membership Director of the Central PA Chamber; Jeff Shaffer, Communications Director of the Central PA Chamber; and Victor Bridy, a veteran and Home resident trying out the chair. In back, from left: Jim King, Central PA Chamber volunteer; Deb Brubaker, Bruce Smith's sister; Donna Ranck, his mother-in-law; Connie and Bruce Smith, Sr., his parents; Connie Smith, his wife; Jennifer Hain, Administrative Director of SUN Tech; Frank Fisher, Sunbury Guardsman Association and SUN Tech community advisor; SUN Tech seniors Dillion Martin and Nicholas Snyder; and instructor Leonard Schwartz. Behind them are Bruce's sons, from left, Andrew and Aaron Smith.
NORTHUMBERLAND – A legacy of giving continued, and it just so happened to fall on the Memorial Day weekend, when many think about heroes of the past.
On Friday, May 26, the family of the late Bruce T. Smith, Jr. and SUN Area Technical Institute representatives gathered at Emmanuel Home, a senior care facility in Northumberland, for the presentation of an electric wheelchair to aid any veterans or residents who may need to use it.
The chair was made available thanks to collaboration and monetary donations to fix the chair, which had been in disrepair at the Northumberland American Legion, according to Frank Fisher, a Vietnam Veteran with the Sunbury Guardsman Association.
He is also a community advisor with SUN Tech.
In late March, Smith, an alumnus of SUN Tech, toured the current renovations taking place at the school in New Berlin while he was the President & CEO of the Central PA Chamber of Commerce.
After learning of the desire to fix the chair from instructor Leonard Schwartz, Smith quietly donated $200 to cover the cost of the parts. Since Smith's sudden passing on May 6, an anonymous donor to SUN Tech stepped up and donated the necessary funds to cover the cost of new batteries, which was kindly provided at a discount by Warehouse Battery Outlet, Washingtonville.
With all the necessary equipment gathered, SUN Tech students in the Electronics Technology program fixed the chair, and even had new wheel bearings made by students in the machine shop.
"It was nice to see this project go so far," said Nicholas Snyder, a senior from Shikellamy High School, who attended the presentation along with Dillion Martin, a senior from Midd-West High School.
"It's a great opportunity to memorialize Bruce, honor his work, bring the community together and share it with his family," said Jennifer Hain, Administrative Director at SUN Tech.
Robert Delbo, Administrator at Emmanuel Home, is grateful for the donation, to be used by any resident who may need it. Resident Victor Bridy, a veteran from Milton, was on hand to test drive the updated chair and had no issue with it.
"As a non-profit, it's nice to see the continuance of people helping out," Delbo said.
Emmanuel Home is a popular place for veterans, as well as the widows of veterans. Delbo said he enjoys hearing the stories the veterans will often share.
Hain indicated the anonymous donor in this project is also a veteran. And, Smith, known for his community work and giving, would often focus his efforts to aid veterans.
Fisher presented Smith's family with a certificate, and Hain presented them with a plaque. It features an acorn with Smith's most notable saying – "Living The Dream."
An acorn will also be added onto SUN Tech's giving tree in Smith's memory.
SUN Tech is hoping to repair additional chairs in the future.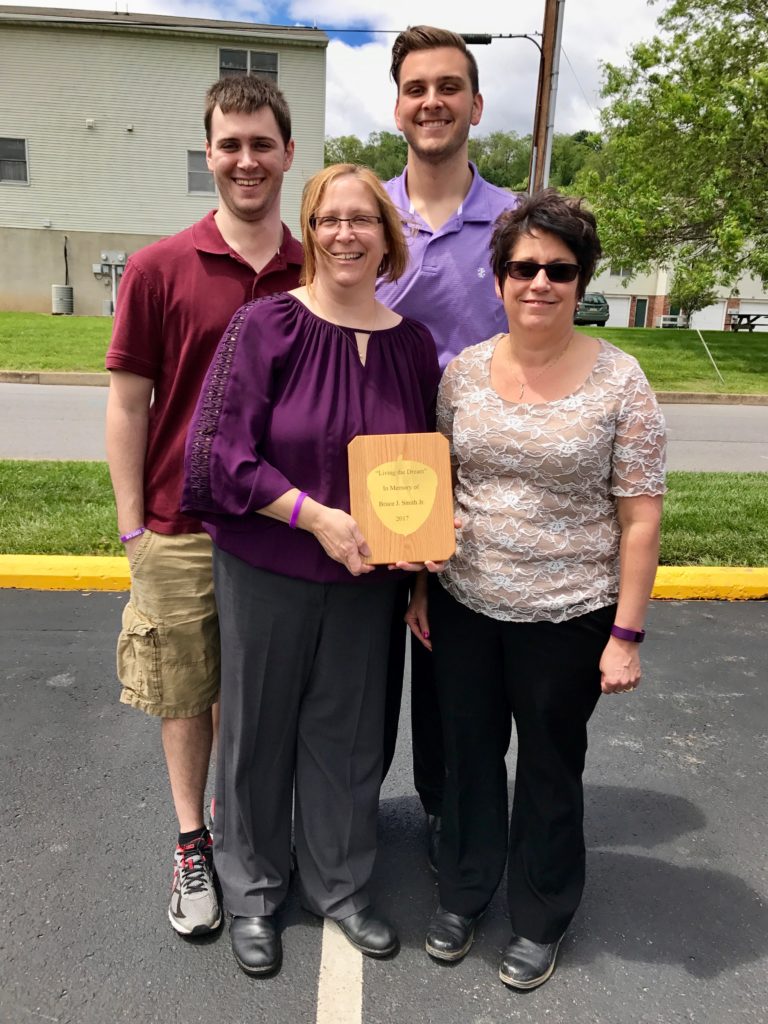 At right, Jennifer Hain, Administrative Director of SUN Tech; presented Connie Smith, Bruce's wife, with plaque in memory of Bruce and his donation. In back, from left, are Bruce's sons, Andrew and Aaron Smith.