The Central PA Business and Education Association is the 501(c)(3) entity under the Central PA Chamber umbrella. There are numerous programs that members may take part in. To learn more, contact Ryan Workman at rworkman@centralpachamber.com or 570-742-7341.
Vision Statement
"A Knowledge-ABLE Workforce"
Mission Statement
UNITE . THINK . MODEL . EMPOWER.
Seminar & Training Series
The Seminar & Training Series is designed to provide short but impactful educational opportunities for members and employees of businesses and organizations alike. The courses are relevant to today's needs, including technology, marketing strategies and much more. B&E partners with Central PA Chamber members to conduct the classes. If interested in leading a class, e-mail rworkman@centralpachamber.com or call 570-742-7341. For the latest class information, and to register, click here!

Raising the Board
Raising the Board (RtB) is a one-of-a-kind program created by the Central PA Chamber of Commerce. It's designed to build the skills and confidence of would-be and current members of non-profit boards. Raising the Board is broken down into four focus areas, containing several topics, which all board members need to understand to fulfill their fiduciary responsibilities to the non-profit organization. The curriculum was written by subject matter experts (SMEs) within the Central PA Chamber membership and is presented by mentors over the course of a day-long session.  The four focus areas are: Practice, Act, Apply and Connect. Topics range from Vision/Mission and Strategic Planning to Fundraising, Advocacy and many more.
Career Fairs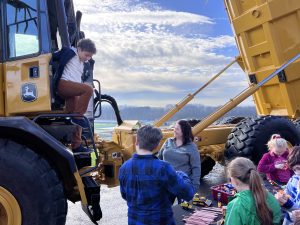 The Business & Education Association assists area schools and engages local businesses and organizations to host career fairs.  These events demonstrably enhance the education and career planning of each participant.  By attending fairs, local business leaders can support students while educating them about their business.  Each year, thousands of students from various schools participate.  This is your chance to enhance student awareness on the variety of careers that are offered right here in central Pennsylvania.  Don't miss this opportunity to directly educate local students and aid in their decision-making process as they schedule courses, make vocational and college plans, or seek future employment.
Job Shadowing
Job Shadowing is an academically motivating activity designed to give students the unique opportunity of an up-close look at the world of work and provide the answer to the commonly asked question, "Why do I have to learn this?" The program invites students to see firsthand how the skills learned in school relate to the workplace.
Legislative Events
Students from our member school districts are invited to attend Legislative Events throughout the school year. Students are individually recognized before federal, state and local elected officials. Students are photographed with guest speakers and given the opportunity to ask questions.