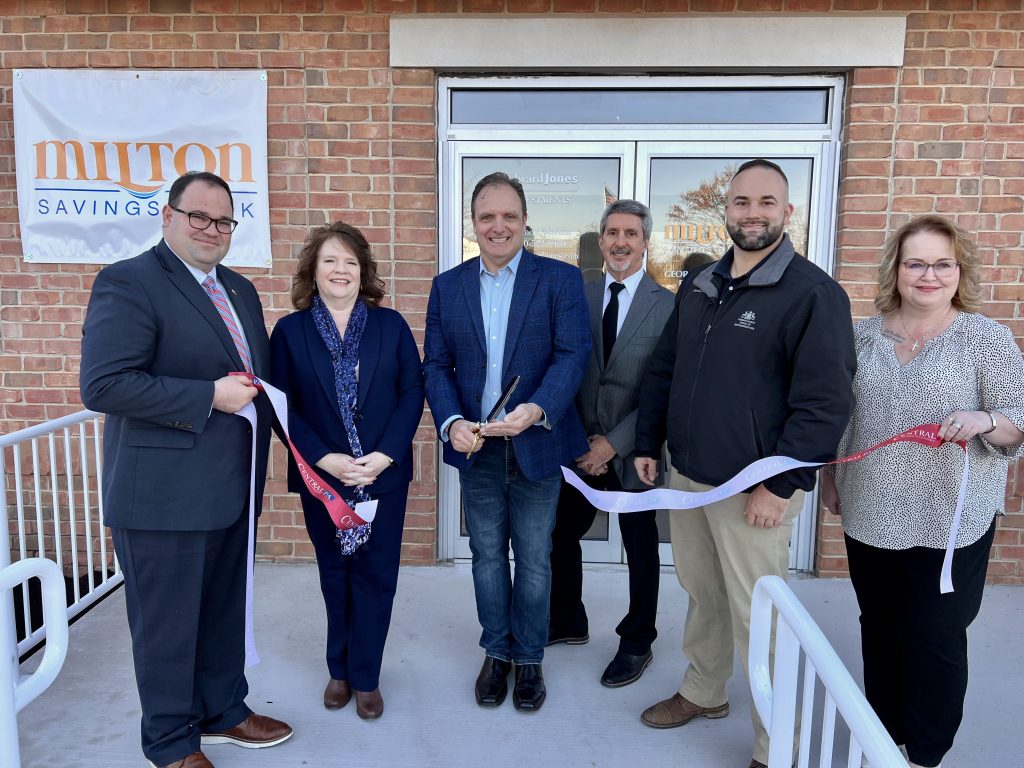 Robert Crane, CEO & President of Milton Savings Bank, cuts the ribbon on the new Loan Production Office in Lewisburg. From left: state Rep. Michael Stender (R-108); Lisa Grant, VP/Chief Lending Officer; Crane; Thomas Eiswerth, Chairman of Milton Savings Bank Board; state Rep. David Rowe (R-85); Tea Jay Aikey, President & CEO of the Central PA Chamber of Commerce.
LEWISBURG – Congratulations to Milton Savings Bank on its new Loan Production Office in Lewisburg!
The Central PA Chamber of Commerce helped celebrate Nov. 10, at 260 Reitz Boulevard, with a ribbon cutting ceremony, attended by numerous community leaders and supporters.
According to President and CEO Robert Crane, "The Milton Savings Bank has been serving the community in Milton for 103 years, and we decided that we needed to grow. We looked at the area and realized we already had a lot of business in Lewisburg, which has a great residential real estate market.  This is one of our strong points so we thought this would be the best please for us to expand."
The new loan production office in Lewisburg will "have great leaders on staff."  Crane highlighted, "They know what they are doing. As a mutual savings association, we can be aggressive with rates.
"We pride ourselves on great service. Our customers are happy that they deal with us and things are done right at Milton Savings Bank."
You are welcome to reach out to the Milton Savings Bank's Loan Production Office at 570-524-0105 or visit www.miltonsavingsbank.com.
Find more photos from the ribbon cutting on the Central PA Chamber's Facebook and Instagram pages.