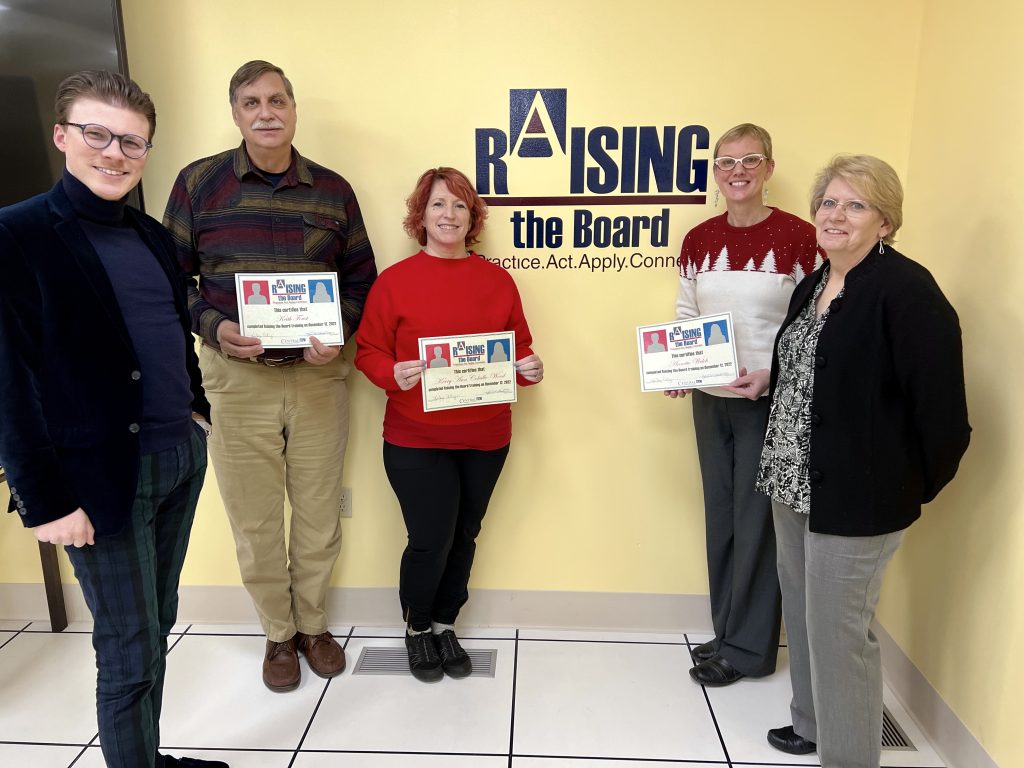 Pictured are the most recent graduates of Raising the Board: Keith Foust of Susquehanna Fire Equipment Company, Kerry Ann Colville-Wood of Hummel Station, and Annette Welch of MC Federal Credit Union, who completed the program last fall. Bookending them are Ryan Workman, the Central PA Chamber's Business & Education Coordinator and RtB program director, and Lauren McDonald of The Wealth Factory, who is a Chamber board director and RtB mentor. Not pictured are mentors Rob Jones of Milton Historical Society, also a Chamber board member; and Loni Martz-Briner of North Shore Railroad. You could be the next to receive your RtB certificate by completing the Central PA Chamber's one-day class on April 19!
MILTON – Raising the Board (RtB), a program designed to raise the skills and confidence of current and would-be non-profit board members, returns this year in a new way!
On April 19, the Central PA Chamber of Commerce will offer a full one-day course, providing anyone with board interest the skills they need to be at their best!
Traditionally, RtB classes have been held for a few hours over four consecutive weeks. This method has proven successful for nearly four dozen graduates to date.
However, this new offering will be great for anyone who has the time – or would rather – complete the course in one single day.
The cost remains $99 and will also include a catered lunch by the Watson Inn.
Participants are provided with reading materials to study in advance and for reference after the class.
Time together in class allows for great conversations between fellow attendees and the presenters, called "mentors".
The first class of RtB was held over four years ago and there have been 44 graduates to date, representing dozens of non-profits across the Central PA region.
There are 15 topics covered in the program. They are broken down into four focus areas, including: Practice, Act, Apply and Connect.
Learn more about RtB's subjects and mentors by visiting www.centralpachamber.com/rtb.
Interested in attending? Call Ryan Workman at 570-742-7341 or e-mail rworkman@centralpachamber.com.