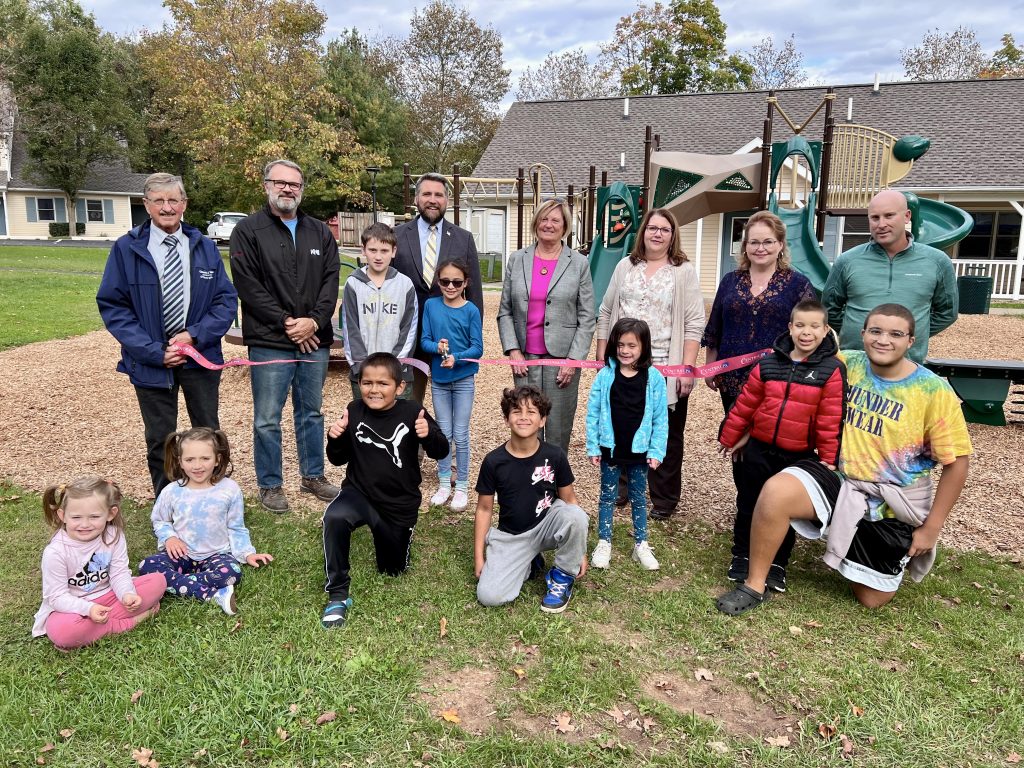 Several of the children who live in White Deer Commons accompanied the officials who saw the playground project for the ribbon cutting ceremony. The children, from left, are: Amelia and Raelynn Bennett; Terry Yost Breson; Noah Sheatler; Rosybell Rodriguez Santana, who is cutting the ribbon; Giovanni Hufnagle; Oryannah and Gabriel Morales and Cincere Brown. The 'big kids', from left, are: Preston Boop, Union County Commissioner; Matt Schumacher, UCHA Board Member; Jeff Reber and Stacy Richards, Union County Commissioners; Sharon Leon, UCHA Executive Director; Tea Jay Aikey, Central PA Chamber President & CEO; and Andy Willow of Willow Playworks.
NEW COLUMBIA – Congratulations to the Union County Housing Authority on the grand opening of its new playground at the White Deer Commons housing complex!
The Central PA Chamber helped them celebrate with a ribbon cutting ceremony Tuesday afternoon, at 125 Foresman Circle, New Columbia, where 24 families live.
"When COVID started, we realized the most important thing for families and children in our housing sites was the outdoor place space that they need," said Sharon Leon, Executive Director of the UCHA. "We spent a lot of money fixing up roofs, kitchen and bathrooms, but we didn't have the funds to put in a new playground for the children."
However, she said the Union County Commissioners were able to secure a grant to renovate and expand the existing play area. The work was completed by Willow Playworks, Mifflinburg.
"They are very excited, and we want to thank all of those involved!"
After the ribbon cutting, children and adults of all ages enjoyed free ice cream, provided by Ard's Farm.
Learn more at UCHA at www.unioncountyhousingauthority.org.
Find more pictures from the event on the Central PA Chamber's Facebook and Instagram pages!