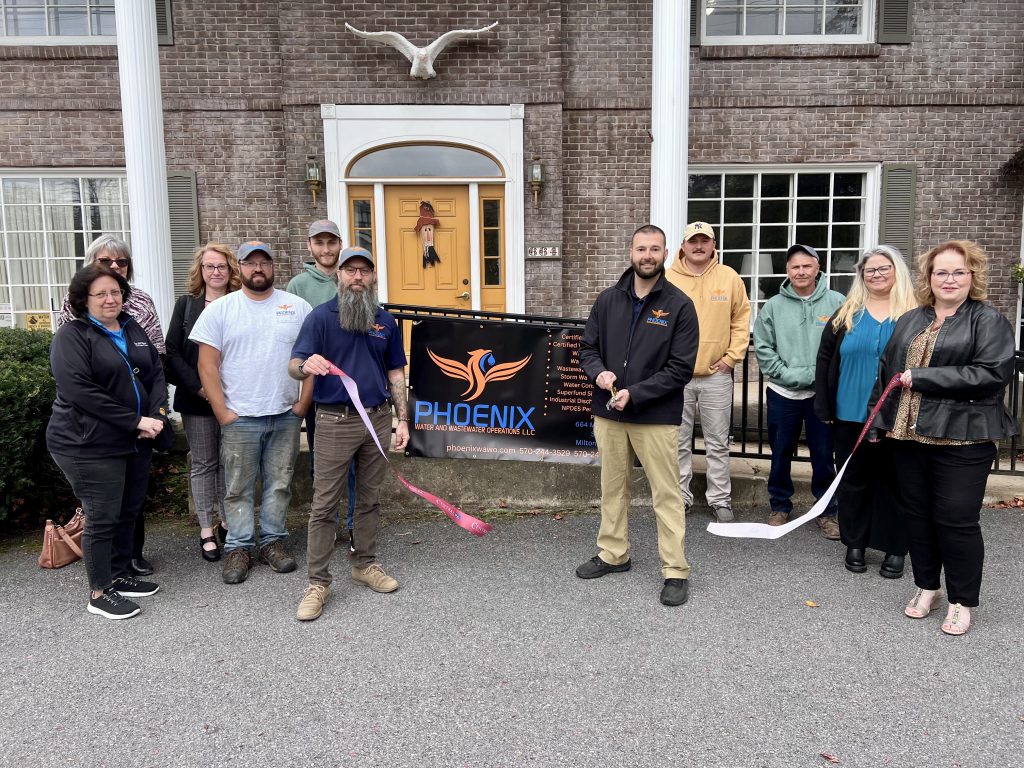 Alec Engleman, owner of Phoenix Water and Wastewater Operations, cuts the ribbon on the business's new location at 664 Mahoning St., Milton (second floor). The move was required due to company growth over its first few years. He is surrounded by staff and supporters. From left: Deb Ashton of The UPS Store – Lewisburg; Alison Hall of RE/MAX Bridges and a Central PA Chamber Board Member; Terri Campbell of state Sen. Lynda Schlegel Culver's office; Ted Fedder, operator; Aaron Sharp, compliance manager; Jason Welliver, marketing/sales manager; Engleman; Zane Leister and Jeff Bauer, operators; Noelle Taylor, administrative Assistant; and Tea Jay Aikey, Central PA Chamber President & CEO.
MILTON – Congratulations to Phoenix Water and Wastewater Operations on their new location in Milton!
The Central PA Chamber helped them celebrate with a ribbon cutting ceremony Wednesday afternoon at 664 Mahoning St. There was an open house in their second-floor office with lunch and refreshments, as well as door prizes and giveaways.
"We started out about three years ago," said Alec Engleman, company owner. "It was just me and one other person working out of my house. We eventually moved into a small office building, and now we have grown to nine people.
"We're really excited to be a part of the Central PA Chamber and grow to where we are today!"
Phoenix Water and Wastewater Operations serves municipalities, industries, schools, campgrounds, mobile home parks, and other real estate properties in certified water and wastewater operations, contract water and wastewater treatment operators, stormwater sampling, consulting, monthly sampling, water supply and distribution, industrial discharge sampling, NPDES permit renewals/transfers, PFAS testing and eDMR/DWELR submissions.
Engleman added they are also moving into the residential market.
"We're helping people out inside of their homes, installing treatment systems to make it safer," he said.
Learn more at: www.phoenixwawo.com.