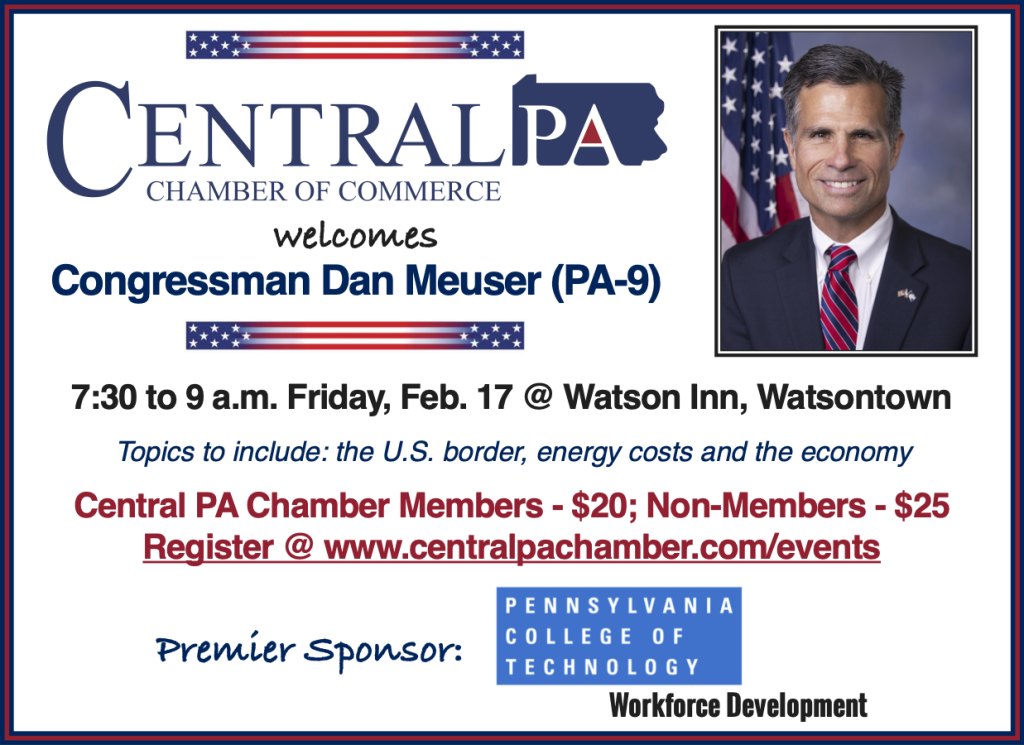 WATSONTOWN – Congressman Dan Meuser (PA-9) will discuss the U.S. border, soaring energy costs and the state of the economy during the Central PA Chamber of Commerce's Legislative Event on Feb. 17 at the Watson Inn.
In the 118th Congress, U.S. Rep. Meuser now represents many businesses and organizations across the region. Meuser had addressed the Central PA Chamber membership once before a few years ago, but this will be the first time the Congressman speaks in-person.
There are still seats available for the Legislative Event, which is from 7:30 to 9 a.m. Friday, Feb. 17, in the Moon Room of the Watson Inn, Watsontown. However, they are expected to fill up quickly with just a couple of weeks to go until the event. The cost to attend is $20 for Central PA Chamber members and $25 for non-members. Registration includes a breakfast buffet and the opportunity to network with 100-plus business and community leaders. Among them are usually several additional elected officials.
To register, visit www.centralpachamber.com/events. This Legislative Event is sponsored by Pennsylvania College of Technology Workforce Development. Learn more now at www.pct.edu/business/workforce-development.
In 2011, former Gov. Tom Corbett nominated Meuser to serve as Pennsylvania's Secretary of Revenue. His leadership of the department was recognized by the Council on State Taxation for the most dramatic improvement of any department of revenue in the country, going from a D rating to an A- during his tenure.
In 2019, Congressman Meuser was sworn in as a member of the 116th Congress representing Pennsylvania's then 9th Congressional District. He serves on the House Small Business and House Financial Services committees and is also a member of the Problem Solvers Caucus, the Republican Study Committee, Republican Main Street Caucus, and the Border Security Caucus.