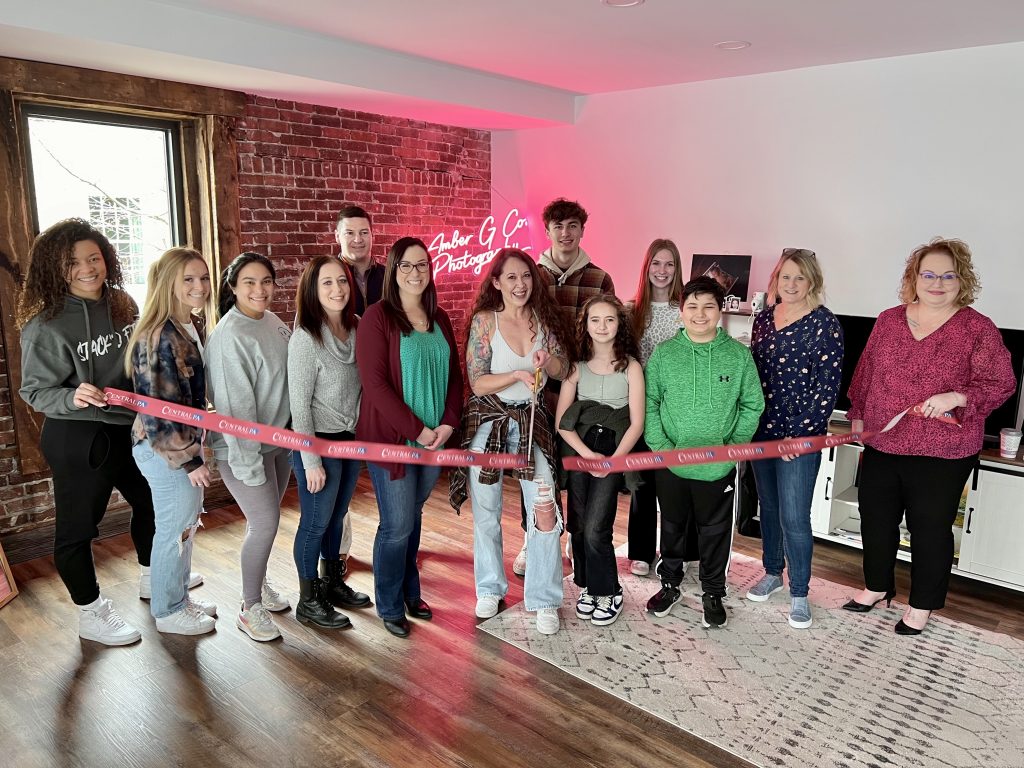 Amber Gardner, owner/photographer, of Amber G Co. Photography, cuts the ribbon to celebrate the opening of her studio in downtown Selinsgrove. In front, from left to right, are: friends Jatoya Troutman, Veronica John, Kelsey Ritter and Jean Mattern; Brittany Reichenbach, sister; Gardner; Layla Gardner, daughter; Brayden Gardner, son; Lori Reichenbach; and Tea Jay Aikey, President & CEO of the Central PA Chamber of Commerce. Back: Beau Hoffman, friend; Jamison Bohner, son; and Jojo Blewitt, a senior from Muncy Junior/Senior High School and one of Gardner's new 'senior influencers'.
SELINSGROVE – Congratulations to Amber G Co. Photography in Selinsgrove!
On Friday afternoon, the Central PA Chamber of Commerce helped owner/photographer Amber Gardner celebrate her new studio, at 111 N. Market St., with a ribbon cutting ceremony. The space was also recently renovated, and Gardner was able to save some of the building's original character, featuring exposed brick and timber.
She was surrounded by family, friends, and fellow Central PA Chamber members for the special occasion.
"I am super excited that I had the Central PA Chamber come and do my ribbon cutting," Gardner said. "I'm very excited to be in downtown Selinsgrove. It's my hometown."
Gardner, who formerly had a studio in Lewisburg, photographs clients from across the region. Her work focuses on high school seniors, business headshots, newborns, families, and the list goes on. She does not, however, do wedding photography.
She has become known for working with her "senior influencers" from area high schools. While they have the opportunity to model, Gardner also requires a volunteer project to be completed by the group. She enjoys the fact that the students are coming up with their own ideas to support the area communities. In addition, many of her senior photographs have been featured in major industry publications.
You can learn more, and see her portfolio, at www.ambergcophotography.com. Gardner also shares a lot of her work on popular social media outlets.