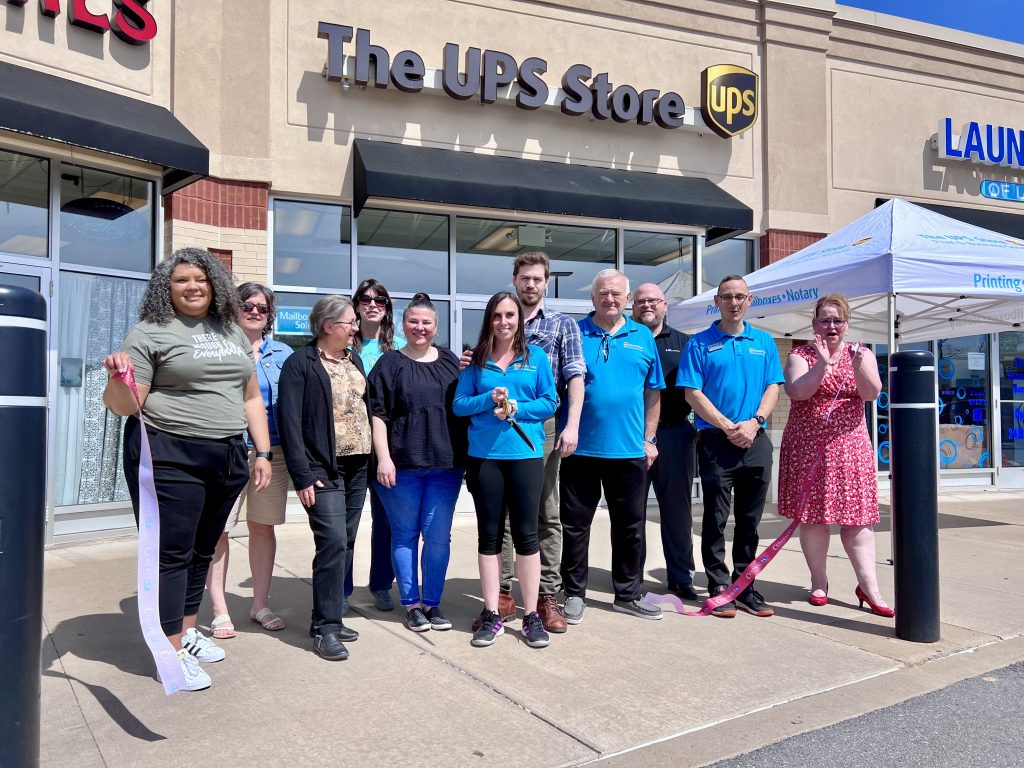 Surrounded by family, friends, and supporters outside of her store, Gyanna Grudsinski, cuts the ribbon to celebrate her new ownership of The UPS Store in Lewisburg. From left: Kendy Alvarez, Greater Susquehanna Valley Chamber; Tricia Dreese, Lawton Insurance Agency; Jovanka Mandic, Gyanna's grandmother; Heather Temple, a fellow member of BNI Central Pennsylvania; Jasmina Mandic, Gyanna's aunt; Gyanna with her husband, Matt; Nikola Mandic, Gyanna's grandfather; Chad Feather, First Commonwealth Bank; Victor DeDonato, owner of The UPS Store in State College; and Tea Jay Aikey, Central PA Chamber President & CEO.
LEWISBURG – Congratulations to Gyanna Grudsinski, the new owner of The UPS Store in Lewisburg!
The Central PA Chamber of Commerce helped her celebrate Friday with a ribbon cutting ceremony at the well-established business in the Penn House Commons at 325 N. 10th St., Ste. 400. Grudsinski recently purchased the business from long-time owner Alison Hall, who is now retired.
An open house was also held, hosting family, friends, business associates and customers, because it was just another busy day at the store.
"It means a lot to have everyone's support, including Chamber and BNI (Business Network International) folks," Grudsinski said. "It's super exciting that I decided to do this crazy adventure with my husband (Matt) and family.
"Hopefully, we get to grow together."
The UPS Store offers a wide variety of products and services, including: shipping and packing, printing, hosting mailboxes, notary, shredding, passport photos, faxing/scanning and more.
For details, visit: https://locations.theupsstore.com/pa/lewisburg/325-n-10th-st.