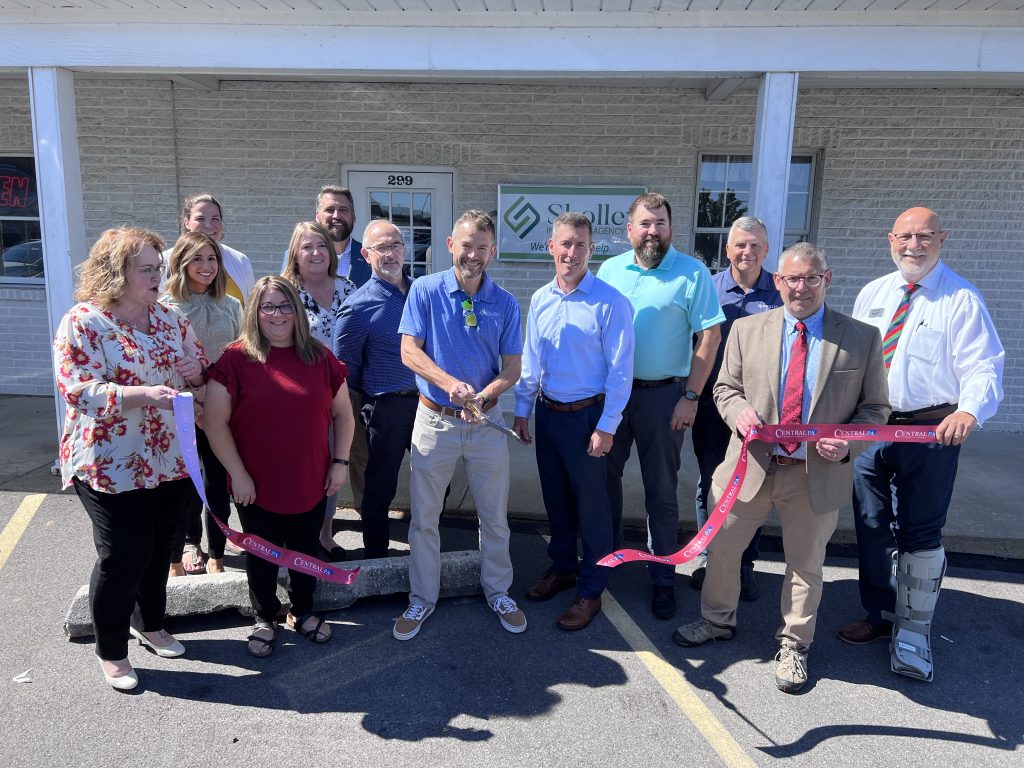 Cutting the ribbon at the new Sholley Insurance Agency in Mifflinburg is Owner Jared Sholley, who also is Head of the Commercial Lines Division. In front, from left, are: Tea Jay Aikey, Central PA Chamber President & CEO; Autumn Shively, Personal Lines Customer Service Representative, based in the new office; Jared Sholley; Chris Bailey, Owner and Head of the Benefits Division; Mifflinburg Mayor David Cooney; and Bob Garrett, President/CEO of the Greater Susquehanna Valley Chamber of Commerce. Second row: Sarah Sholley, Agent – Medicare, Health & Life Insurance; Michelle Schnure, Personal Lines Customer Service Representative, also based in Mifflinburg; Tom Deihl, former owner of Tom Deihl Agency, purchased by Sholley Insurance; Josh Troup, Owner/COO. Back: Meaghan Troup, Marketing Director; Union County Commissioner Jeff Reber; and Lynn Sholley, former Owner of Sholley Insurance Agency and currently Commercial Lines Agent.
MIFFLINBURG – Congratulations to Sholley Insurance Agency on its grand opening in Mifflinburg!
The Central PA Chamber of Commerce helped them celebrate with a ribbon cutting ceremony on Thursday, Sept. 21, at 299 E. Chestnut St., in the Buffalo Valley Shopping Center. A customer appreciation event followed with lunch, refreshments and an open house.
"We are thrilled to be in Mifflinburg," said Owner Chris Bailey, who is also Head of the Benefits Division. "So many of our employees and owners are from the Mifflinburg area.
"We're very happy to have acquired this business from Tom Deihl, who had an agency here for decades and did a wonderful job serving the community. We look forward to continuing that level of service with everyone we interact with."
This is Sholley Insurance Agency's third location, with the other two being in Lewisburg and Selinsgrove. It is a family-owned, independent insurance agency that has served residents in the region since 1985. They specialize in all lines of coverage, including: commercial insurance, group health insurance, personal insurance, life insurance and more.
For more information, visit: www.sholleyagency.com.