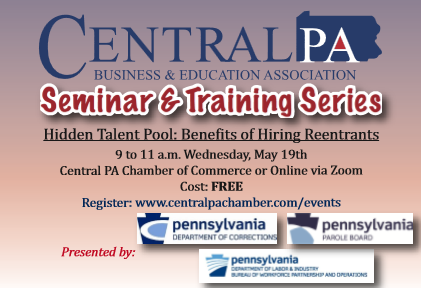 MILTON – It's widely known that jobs of all kinds are readily available at the present time, but what many employers are not aware of is an untapped workforce.
The Central PA Chamber of Commerce has partnered with the state Department of Corrections, state Parole Board and state Department of Labor & Industry to present the Seminar & Training Series class "Hidden Talent Pool: Benefits of Hiring Reentrants" from 9 to 11 a.m. on Wednesday, May 19.
The class is free to attend and will be held in-person at 30 Lawton Lane, Milton, and via Zoom. Register at www.centralpachamber.com/events.
The speakers will include Dorenda Hamarlund, a workforce development specialist with the Department of Corrections and Parole Board, and Greg Shirk, development supervisor with the Department of Labor & Industry. They will share how businesses can find certified and experienced employees, as well as the related financial benefits. An employer will be on hand to share their challenges and successes.
"There are many benefits to the employer for hiring a reentry applicant," said Tea Jay Aikey, Central PA Chamber President & CEO. "This includes career readiness, nationally accredited vocational certification, annual tax credits, on the job training reimbursement, federal bonding, high retention rates and more."
In addition, the Central PA Chamber plans to, once again, partner on a local level to hold more reentry job fairs this year. Three separate dates are currently in the works.
For more information, call 570-742-7341 or e-mail tjaikey@centralpachamber.com.
Interested in learning about current job openings with Central PA Chamber members? Visit: https://centralpachamber.com/economic-development/job-opportunities.