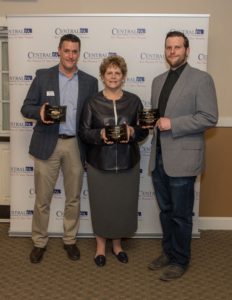 The Chamber Impact Award winners, from left: T-Ross Brothers Construction, represented by President Todd Ross; Evangelical Community Hospital, representing by President Kendra Aucker; and John Yogodzinski, Owner of The Graphic Hive.
LEWISBURG – There are many slip ups in the race called life, but don't let it stop you from reaching your finish line.
"The only person I'm racing against is the person in the mirror," said Keynote Speaker Tim White of SPEAK SOBER, during the Central PA Chamber of Commerce's Annual Meeting & Fundraiser on Feb. 22 at The Silver Moon Banquet Hall, Lewisburg.
White openly shares that he has had many slip ups in life, when alcohol use to rule him for decades. It cost him money, a marriage and even his freedom. It came to a head when his race ended with a trip to jail.
However, he said, "It was one of the best days of my life…It's the last time I put alcohol in this temple."
White started his impactful speech with a relatable story of when he was known as "Little Speedy Timmy" amongst his elementary school peers. Small stones beneath his feet slipped him up at the starting line, and it cost him a victory.
"Stones can make you fall, but they can also be stepping stones," White said. He added we all have something written in stone on our hearts, but is it helping or hurting you?
White suggests replacing stones that say "fear, doubt and indecision" with words like "courage, faith and absolute vision."
As the nearly 200 attendees listened, White encouraged each of them to consider what they have written, to sweep away the negative and replace it with something positive. Actual stones with helpful words were on each banquet table, along with mirrors, to remind them who their race is against.
"Because if you're not exactly where you want to be, if there is something holding you back…I implore you…I beg you…think of 'Little Speedy Timmy' and sweep away what you need to sweep away to move your business forward, to move your life forward, to get unstuck.
"If you fall, sweep it away, pick yourself up, get back in your race and run!"
The Annual Meeting & Fundraiser remained impactful throughout. Two Central PA Chamber businesses and one individual were recognized this year with a Chamber Impact Award, given to those who have made an impact both with the Chamber and the community at-large.
The recipients were: T-Ross Brothers Construction, Montandon; Evangelical Community Hospital, Lewisburg; and John Yogodzinski, owner of The Graphic Hive, Williamsport.
"They donate their services to different causes, tackling projects that many others couldn't," said Jeff Shaffer, Chamber Communications Director, of T-Ross Brothers Construction. "They help others grow, including the Chamber. The most recent example is the completion of 'The Smith Room,' named for Bruce Smith, and up-and-coming training area dedicated during the last Member Appreciation Celebration."
"I wasn't expecting this at all," said Todd Ross, President, accepting the award on behalf of the company. "We have a great team that will move the Chamber ahead, and I'm proud to be a member."
Of Evangelical Community Hospital, Chamber President & CEO Tea Jay Aikey said, "This facility has played a part in many of the lives of us here today. From times of sheer happiness to times of tragedy and everything in between.
"The values of this facility are a reflection of exactly what an Impact Award winner looks like and why they are a continually growing facility after 65 years."
Evan President Kendra Aucker accepted the award and gave credit to the community for the reason it has been so successful.
Education Coordinator Michael Porter announced the Chamber Impact Award for Yogodzinski, saying he is "hard-working and passionate" and that the visions of the Chamber and Yogodzinski's business "aligns perfectly." John has also been a staunch supporter, including being a regular presenter for the Seminar & Training Series offered by the Chamber.
All three recipients said they were thinking of the late Bruce T. Smith, Jr., who served as the Central PA Chamber President & CEO up until the time of his death last May. They knew him well and remain committed to seeing this Chamber thrive.
Yodgodzinski mentioned he recently came across a small gift from Bruce, a wooden nickel with his mantra – "Living The Dream."
"He's still making a difference in my life," he said.
Bruce was on a lot of people's minds. The Annual Meeting this year was in his memory and a moment of silence was held while Aikey reflected on the past year.
"There were tears and sorrow losing our leader and beloved friend Bruce," she said. "We as an organization came together to support one another.
"You our members were there to offer many visits and hugs."
The Chamber staff, also including new-comer Jessica Williams, Membership & Finance Director, wore something purple, which was Bruce's favorite color.
Events like the Annual Meeting & Fundraiser take the support of many member businesses and organizations.
Jeff and Michael, for instance, were outfitted by Tony's Custom Tailor Shop. Tea Jay and Jessica had hair and makeup done by Untangled Too Salon and wore jewelry from Paparazzi by Tracy.
The Chamber Impact Awards are by Safeguard Business Systems as were the main gifts at each of the seats. "Build Your Own" goodie bag items were provided by: Evangelical Community, First National Bank, Graphite Grantworks, Knisely Shredding, Lawton Insurance Agency, Milton Savings Bank, Safeguard Business Systems, The Daily Item, The Standard-Journal, T.K. Witch & Co. Catering.
Food was provided by Feast of Flavor Catering, which holds events at The Silver Moon Banquet Hall in addition delivery services. Centerpieces were provided by Star Hollow Candle Co. Twenty-five lucky members went home with one. Name tags were donated by A+ Office Outlet. All photography from the event was by Hosterman Photography & Design. The National Anthem started off the Annual Meeting, and was sung by Christina Hoover.
Partnering Sponsors were: Graphite Grantworks, Milton Savings Bank and The Daily Item. Contributing Sponsors were: Evangelical Community Hospital and First National Bank.