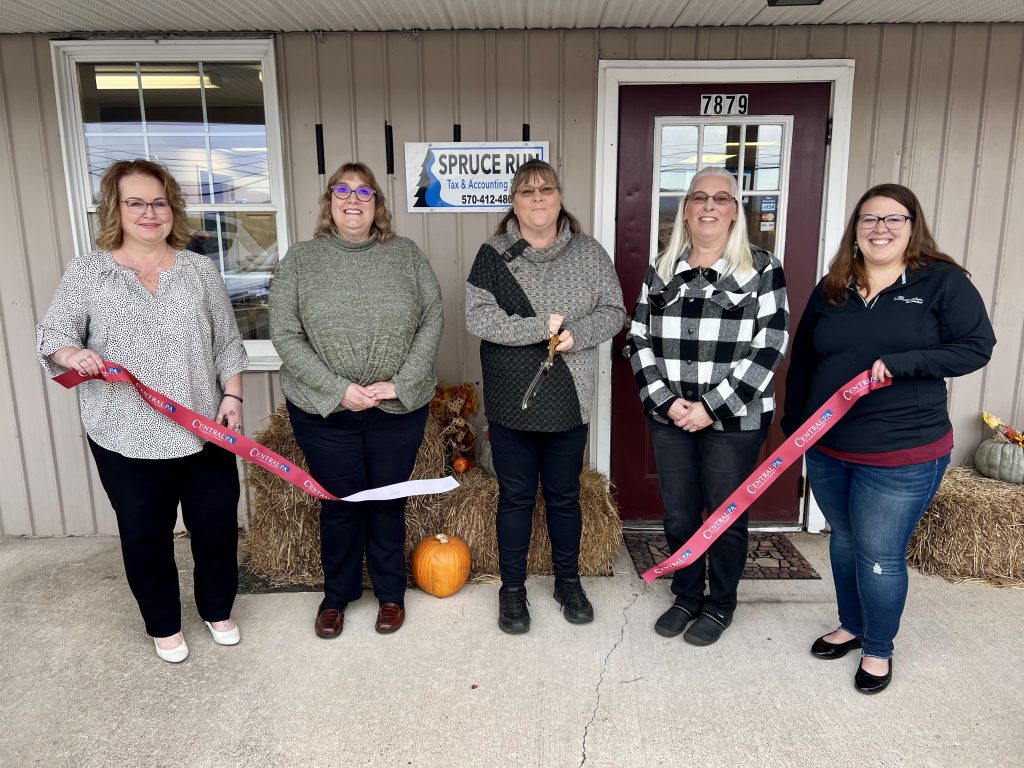 Tina Raup, owner of Spruce Run Tax & Accounting Services, cuts the ribbon at her new location in Mifflinburg, surrounded by staff and supporters. From left: Tea Jay Aikey, President & CEO of the Central PA Chamber; Stacey Miller, administrative assistant; Raup; Carol Longacre, contractor with Spruce Run; and Ashley Parrish of First Commonwealth Bank – Lewisburg and also Treasurer of the Central PA Chamber Board.
MIFFLINBURG – Congratulations to Spruce Run Tax & Accounting Services on its new and expanded location in Mifflinburg!
The Central PA Chamber of Commerce helped celebrate Friday afternoon, at 7879 Old Turnpike Road (Route 45), with a ribbon cutting ceremony.
"My office was actually next door, and it was a 12×12 office," said Tina Raup, owner, who moved in a few months back. "Now, I'm in a significantly larger space."
This coming February, Raup will be celebrating 10 years in business, and she recently hired an administrative assistant and subcontractor for the busy tax season.
"Everything is running much more smoothly," she said. "In my first year, I did 12 tax returns, and now I'm doing over 1,000."
Raup chose Mifflinburg because "it's a beautiful town", and she intends to reach out to the farming community.
You are welcome to reach out to Spruce Run Tax & Accounting Services at 570-412-4802 or visit http://www.spruceruntax.com.
Find more photos from the ribbon cutting on the Central PA Chamber's Facebook and Instagram pages.