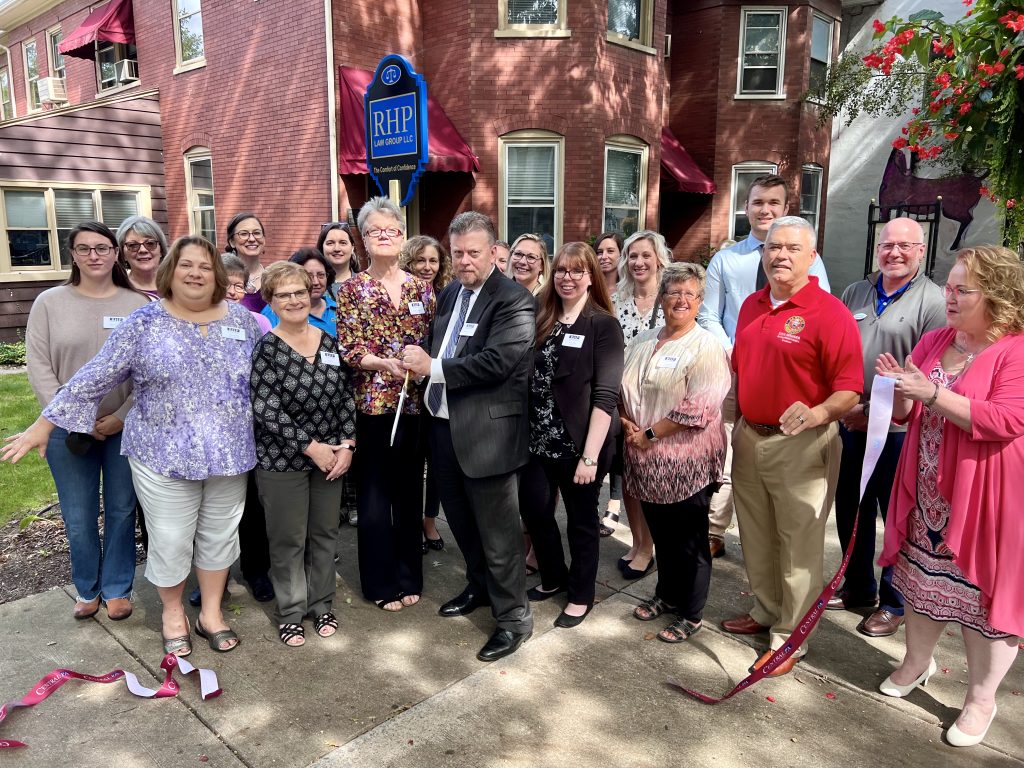 Surrounded by staff and supporters, Attorneys Karen Hackman and Kenneth Potter cut the ribbon on the new location of RHP Law Group at 112 Market St., Lewisburg. From left, in front, are: Valerie Martin, office assistant; Pat Benfer, receptionist and legal assistant; Hackman; Potter; Jane Zellers, paralegal; Wendy Eby, legal assistant; James May of Congressman Dan Meuser's office; and Tea Jay Aikey, Central PA Chamber President & CEO. Second row: Alaina Kuzmitsky, legal assistant; Sharon Rishel, legal assistant; Deb Ashton, The UPS Store – Lewisburg; Stacie Gaul, Evangelical Community Hospital; Morgan Mattern, Fulton Bank; Jen Doane, Evangelical Community Hospital; Jordan Conner and Brian Paulhamus, Fulton Bank. Back: Alison Hall, RE/MAX Bridges; Marianne Beane, Endless Mountains Enterprises; Anne Reiner, Reiner Productions; Michelle Huey and Ashley Boop, Miffinburg Bank & Trust.
LEWISBURG – Congratulations to RHP Law Group on its grand opening in Lewisburg!
The Central PA Chamber of Commerce helped them celebrate with a ribbon cutting ceremony on Friday, Sept. 22, at 112 Market St. There was also an open house with a variety of refreshments.
Attorney Karen Hackman said for almost 50 years RHP Law Group has been operating in Selinsgrove, and one day they received a call from Attorney Terry Light, who was interested in selling his location in Lewisburg after almost 50 years.
"Our practices are very much the same, so it was an easy transition," she said.
Attorney Kenneth Potter, who co-owns RHP Law Group with Hackman, added that over the years they decided they couldn't be all things to all people and are a focused firm.
"We like to be very good at what we do," he said.
Potter focuses on long-term care planning, real estate, business law and litigation, while Hackman's attention is on commercial real estate and is largely transactional. Their motto is, "The Comfort of Confidence".
The long-standing Selinsgrove location is at 1372 N. Susquehanna Trail, Ste. 130. For more information, visit: www.rhplegal.com.
Find more pictures on the Central PA Chamber of Commerce's Facebook and Instagram pages.