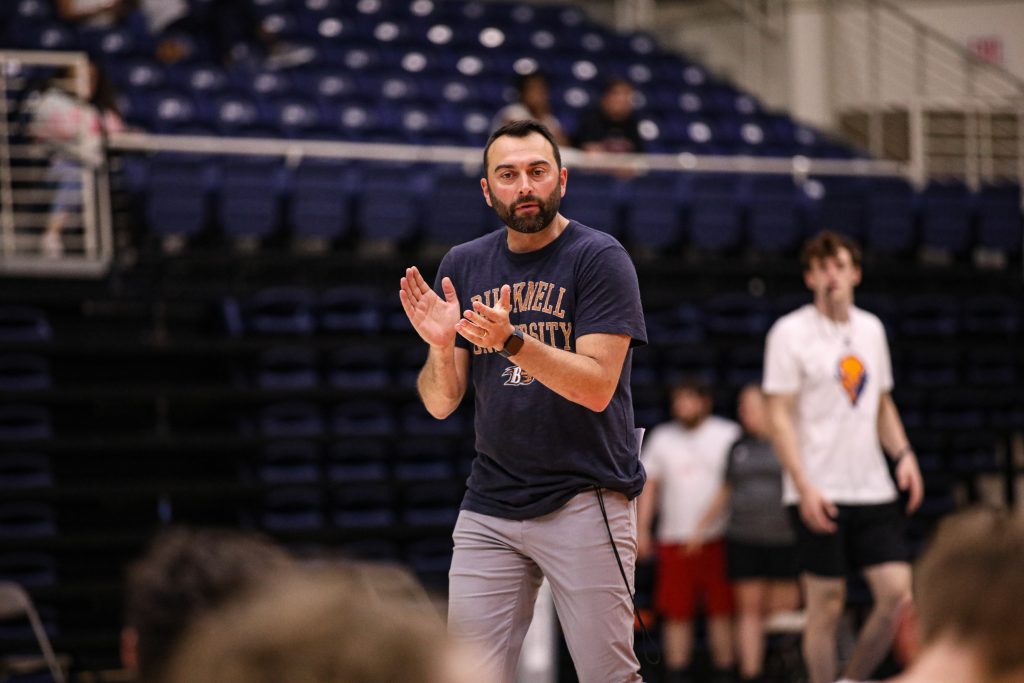 John Griffin III, Head Coach of the Bucknell University Men's Basketball Team, will be the keynote speaker at the Central PA Chamber of Commerce's Annual Meeting on Thursday, Oct. 26. Longtime fans of the Bison will recall Griffin also as a player when the team earned back-to-back invitations to the NCAA Tournament. Registration is open! Visit: https://centralpachamber.com/events/2023-annual-meeting. Photo provided by Coach Griffin.
LEWISBURG – Finding balance in life is crucial, but it can also be difficult to achieve. The Central PA Chamber's keynote speaker for the Annual Meeting isn't only trying to balance life for himself and his players, he's dribbling it, too!
John Griffin III, the new Bucknell University Men's Basketball Coach, will address the Chamber's largest audience of the year at its Annual Meeting on Thursday, Oct. 26, at the Silver Moon Banquet Hall, Lewisburg. Registration is now open at https://centralpachamber.com/events/2023-annual-meeting.
Griffin will provide his perspective as a college coach on the keys to "Finding Balance" between work and life.
"In a demanding college athletics space, finding balance has been a key topic amongst the college coaching community," he said. "Perspective has given me a great advantage in seeking work-life balance, but it has become increasingly challenging. I am looking forward to sharing a few thoughts to consider as we all try to find the keys to work-life balance."
Chamber President & CEO Tea Jay Aikey, who is a longtime admirer of Griffin, even from his years as a player for the Bucknell Bison, is elated to have a coaching session for hundreds of Central PA Chamber members who attend.
"It is my hope this message resonates with all who attend the Annual Meeting this year," she said. "I believe this will be such an impactful event that will change journeys, lives and relationships.
"I personally am on a balance-seeking pivotal point in my life, too, and want to learn with you."
Returning as a Meal/Venue Sponsor this year is Service 1st Federal Credit Union. And, there are many more sponsorships still available! Contact Jessica Beaver at 570-742-7341 or jbeaver@centralpachamber.com.
If you've attended the Central PA Chamber's Annual Meeting for any period of time, you will recognize that no two events are alike. The "Finding Balance" theme will be present throughout as you look to enage with the speaker and network with other attendees. There will be a special keepsake for everyone, who will also, once again, enjoy a great meal provided by Feast of Flavor Catering.