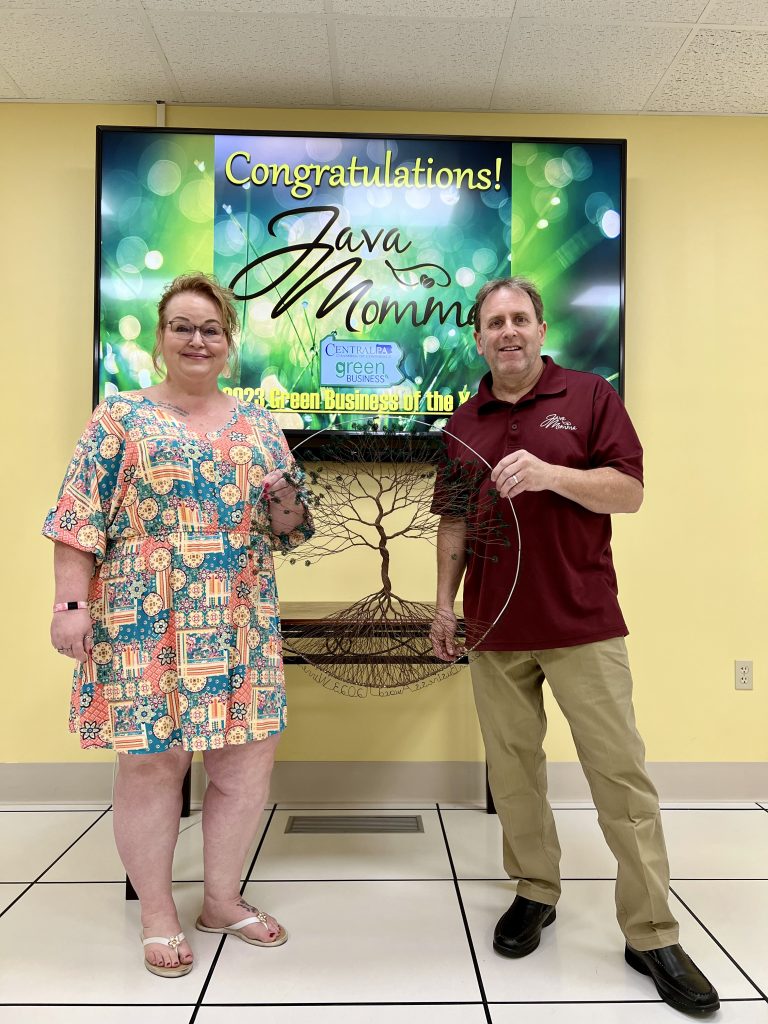 At the conclusion of a Breakfast Briefing event Friday, April 21, at the Central PA Chamber, President & CEO Tea Jay Aikey presents the 2023 Green Business of the Year Award to Brian Shoop, who co-owns Java Momma with his wife, Melissa.
MILTON – The Central PA Chamber of Commerce announced its 2023 Green Business of the Year this morning before a captive audience.
On Friday, April 21, as the Chamber staff concluded its monthly in-house Breakfast Briefing networking event, they awarded Java Momma as this year's recipient. Coincidently, the Danville-based coffee roaster and direct sales company was there as the event sponsor, making it a great opportunity to surprise the owners, Brian and Melissa Shoop. Doug was the morning's presenter, while Melissa was called on the phone to listen while the announcement was made by President & CEO Tea Jay Aikey.
Annually, the Central PA Chamber selects a Green Business of the Year, pulled from the several dozen members that are in the Green Business Recognition Program. In any other year, the member is visited during the week as close to Earth Day as possible, which is Saturday, April 22, this year. Having Java Momma at the Chamber building near Milton made it special, because there are not usually fellow members present to experience the excitement.
Java Momma scored very high in every category on the Green Business Recognition application and provided valuable details to the Chamber staff in the essay portion.
"We're super excited to have received the Green Business of the Year Award," Brian Shoop said. "One of the things that differentiates Java Momma from a lot of others is that we roast our coffee with electric roasters powered by renewal energy. Our building has 300 solar panels on the roof, and those solar panels basically provide all the electricity we need to roast, process and package our coffee. We also use renewal packaging whenever possible, and generally, we try as many green practices in our business as we can."
Shoop added the recognition will boast its efforts to market itself as a "green business".
"A lot of the younger market prefer to find companies that have renewal energy or are environmental conscious," he said. "We're doing our best to leave as little impact on the planet as possible, other than the fact that we have great coffee."
Brian and Melissa Shoop started Java Momma in 2017 as a direct sales company selling coffee, tea and additional products. They have since opened a retail location where the coffee is roasted and produced at 1426 Ferry St., Danville. There are 15 full-time employees there and several remote workers in other states and on the other side of the globe. However, their products are primarily sold through a nationwide network of direct sales associates, referred to as "Baristas". There are currently more than 1,800 Baristas across the country who sell Java Momma products through home and online parties, table events and referrals.
Java Momma air roasts its coffee for a cleaner process and more consistent taste, while offering a wide range of flavored and unflavored coffees as well as teas, cocoas and spice blends.
In addition, Java Momma offers private label coffee, gift baskets and fundraisers for non-profits, schools and sports organizations.
You can learn more by visiting www.javamomma.com.
This is now the 11th year of the Green Business of the Year Award. It's been given to Central PA Chamber members in a variety of sizes and industries. However, for the first time this year, the award – which has always resembled the tree of life – was handcrafted locally by a fellow member of the Central PA Chamber, HandyCrafts LLC.
Thomas Beall-Ellersieck, founder, is a talented crafter using wood and wire. The award was made using about 700 feet of wire, and it took upwards of 40 hours to complete. However, he felt it was a natural fit for him to make the new version of the award.
"The environment is very important, something I feel strongly about," he said.
Previous Green Business of the Year Award winners include: The Laundry Room of Lewisburg, 2022; United Plate Glass, Sunbury, 2021; Bear Rental, Northumberland, 2020; Columbia County Bread & Granola, Bloomsburg, 2019; Pompeii Street Soap Co., Mifflinburg, 2018; Arrowhead Drive-In Restaurant, Milton, 2017; Lawrence J. Winans, DMD, Lewisburg, 2016; Hometown Disposal, Sunbury, 2015; Central Susquehanna Community Foundation (now Community Giving Foundation), Berwick, 2014; and Warrior Run Petcare Center, Watsontown, 2013.
The Chamber staff is grateful to every member that takes part in the program and/or makes the effort to do their part to help the planet.
Members are always encouraged to apply, or reapply, if their "green" efforts have grown. Find the online form at www.centralpachamber.com/green-business.
The Central PA Chamber's Green Business Recognition Program was created to showcase the environmental efforts of businesses and individuals. The hope is to encourage green business practices throughout the region.
Green business is looked at as good business. In addition to helping the environment, it can save your business money, and your customers and employees will value your efforts.
To be considered for recognition, you must be: a member of the Central PA Chamber in good standing; doing business in the region; and demonstrate green business practices in each of several major areas.
For more information, call 570-742-7341.