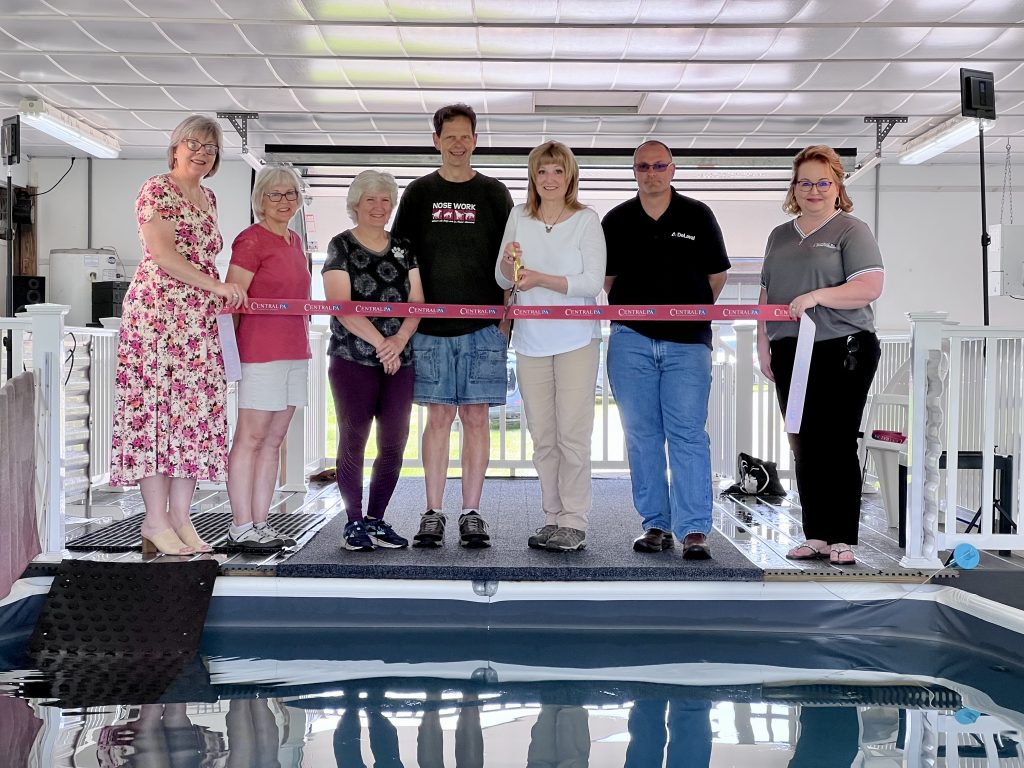 Preparing to cut the ribbon is Duska Rishel, owner/operator of Soggie Doggie, surrounded by family, friends and supporters. From left: Alison Hall, RE/MAX Bridges Realtor and Central PA Chamber Board Member; Lauren Weidner, Valli (owner/operator) and Rick Rovenolt of nearby Paws-itively Obedient Dog Training School; Duska and her husband, John; and Tea Jay Aikey, Central PA Chamber President & CEO.
WATSONTOWN – It's nearly "pool season", but for lucky pups that go to Soggie Doggie, the fun never ends!
On Thursday, May 11, the Central PA Chamber helped the young business at 1710 Vincent Ave., Watsontown, celebrate with a ribbon cutting ceremony.
Soggie Doggie provides a year-round, indoor heated swimming pool for dogs of all sizes and abilities, according to owner/operator Duska Rishel. She said the concept stems from an event she attended around eight years ago, where someone had a make-shift pool for four-legged friends.
"The dogs were swimming and loving it," Rishel said. "I thought it would be a cool idea to offer that to dogs that had mobility issues, excess energy, needed to lose weight or just have fun."
Also providing inspiration was her Jack Russell, named "JR", who is an avid swimmer. You can see his caricature on the business's logo.
The doors to Soggie Doggie opened at the R-Horizon Farm she shares with her husband, John, going on two years ago, and the momentum has been building.
To have your special companions join in on the excitement, contact Rishel to set up a private appointment to meet, and allow your dog(s) to become comfortable and acclimated to the pool. Call 570-412-6676, e-mail soggiedoggie@gmail.com and visit www.soggiedoggie.com. You can also find them on Facebook.
"I enjoy it so much seeing the dogs get benefit out of this," Rishel said. "It makes them happy, and it makes me happy."
Find more pictures on the Central PA Chamber's Facebook and Instagram pages.