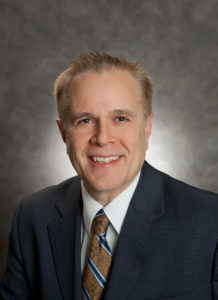 Dale Moyer, Interim President/CEO
MILTON – Even in great tragedy, the Central PA Chamber of Commerce remains committed to its vision, mission and core values.
The Central PA Chamber family and greater community was deeply saddened by the sudden passing of Bruce T. Smith, Jr., who served the Chamber for the past 10 years, and as President/CEO over the last three a and half years.
This was evident by the large outpouring of community support, in the form of visits, cards and messages.
A beautiful service was held Wednesday, May 10, at Emmanuel Bible Fellowship Church, Sunbury. Words of hope and encouragement were shared by the pastor, eulogies were given by Bruce's youngest son and the Chamber staff, beautiful words were sung by his oldest son's longtime girlfriend, an even a proclamation from the state House of Representatives – recording Bruce's achievements – was read by his sister.
The kind words and condolences shared with his family by hundreds of visitors was a testament to the vast number of lives he touched.
It will take time to heal, but the Central PA Chamber will continue Bruce's legacy, as one of many ways to honor him and to ensure the Central PA region remains strong and is setup for future success.
To aid in the transition, the Board of Directors named Chairman Dale Moyer the Interim President/CEO at its meeting this week.
"I am honored to have the trust of our board and staff to serve as the Interim President/CEO of the Central PA Chamber of Commerce," Moyer said. "The Chamber wants everyone to know we are committed to continuing our role supporting, promoting and strengthening our members and businesses. Bruce Smith will be greatly missed, however, our vision, mission and core values remain. My message to you is we will continue to be a strong Chamber and provide the services you have come to expect from us. We will also continue to grow and execute our strategic plan as we had envisioned."
Moyer credits his confidence to a strong board, staff and membership "that has quickly come together to enact a plan to overcome the challenge of the loss of our colleague and friend."
He gives Bruce tremendous credit for building the organization in this way.
"After a brief period of mourning, we have already resumed the work on our initiatives, reviewing plans and adjusting resources to continue moving forward," Moyer said. "A search for a new CEO will begin very soon, in the interim, we will operate under the current structure with the board filling in various roles to insure a smooth transition.
"Most important is our staff of Tea Jay Aikey, Jeff Shaffer and (volunteer) Jim King, who have been so professional and strong through this tragedy. I have no doubt they will continue to work as they always have for you."
Moyer strongly encourages the membership to reach out to him with any questions, comments or concerns. He can be reached regarding Chamber matters at dalecpacc@gmail.com.
As always, the Central PA Chamber staff is ready to assist you. You can learn more by calling 570-742-7341 or visiting www.centralpachamber.com.
A special tribute will be made to Bruce in the June issue of It's Your Business, the Chamber's monthly magazine, available at various member locations and online.