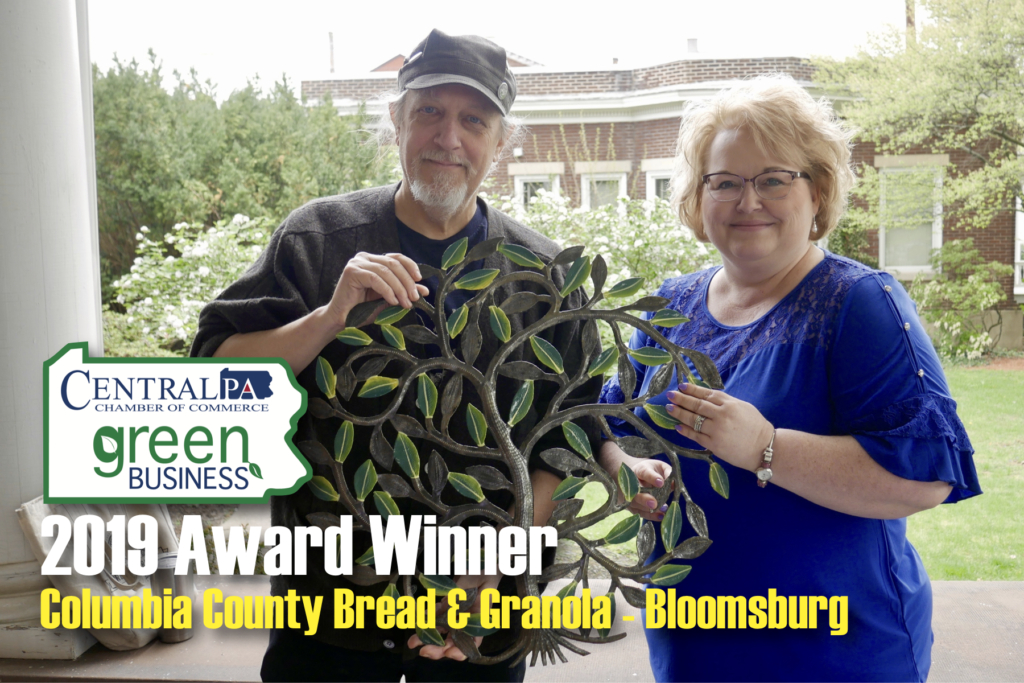 BLOOMSBURG – Columbia County Bread & Granola has been "mixing it up" to be earth-friendly, and it has earned them the 2019 Green Business of the Year Award by the Central PA Chamber of Commerce.
The Bloomsburg-based business is one of many members to participate in the Green Business Recognition program, meaning they put forth a conscientious effort to reduce, reuse, recycle and more.
Members in the program complete an online form that scores them in several areas, including: solid waste prevention, recycling, purchasing choices, energy & water conservation, transportation and involving employees/customers/supplies in the "greening" process.
CCB&G's strong marks and additional essay lead them to receiving this year's honor from the Central PA Chamber. The award was presented on Earth Day, which was held Monday, April 22. The award itself is made from the top of a recycled steel drum container.
An effort that stood out in particular was the encouragement of customers to reduce their "foodprint" when making online purchases.
"When we think about being 'green' we want to look at our packaging," said owner Doug Michael. "Packaging today is a big problem, and it's very difficult to find compostable or recyclable packaging that works for our products. So, what we've done is offered our customers who come on our web site the option of either purchasing our product in the standard laminate package product or a compostable bag. 
"This is not the sort of thing we can offer on our store shelf, but at least we can offer it to the consumers who are conscience of their foodprint."
Foodprint is defined as "the environmental impact, or footprint, of food."
See their products and learn about CCB&G's story at www.columbiacountybread.com.
Previous winners of the Green Business of the Year, are: Pompeii Street Soap Co., Mifflinburg (2018);  Arrowhead Restaurant, Milton (2017); Lawrence J. Winans, DMD, Lewisburg (2016); Hometown Disposal, Sunbury (2015); Central Susquehanna Community Foundation, Berwick (2014); and Warrior Run Petcare Center, Watsontown (2013).
Thank you to all Central PA Chamber members who completed the Green Business Recognition application. You do not make the Chamber staff's decision easy. For those who haven't completed the form, visit www.centralpachamber.com and look under the "Membership" tab. Who knows, you may be next year's winner!
Green Business is good business! In addition to helping the environment, it can save your business money, and your customers and employees will value your efforts.