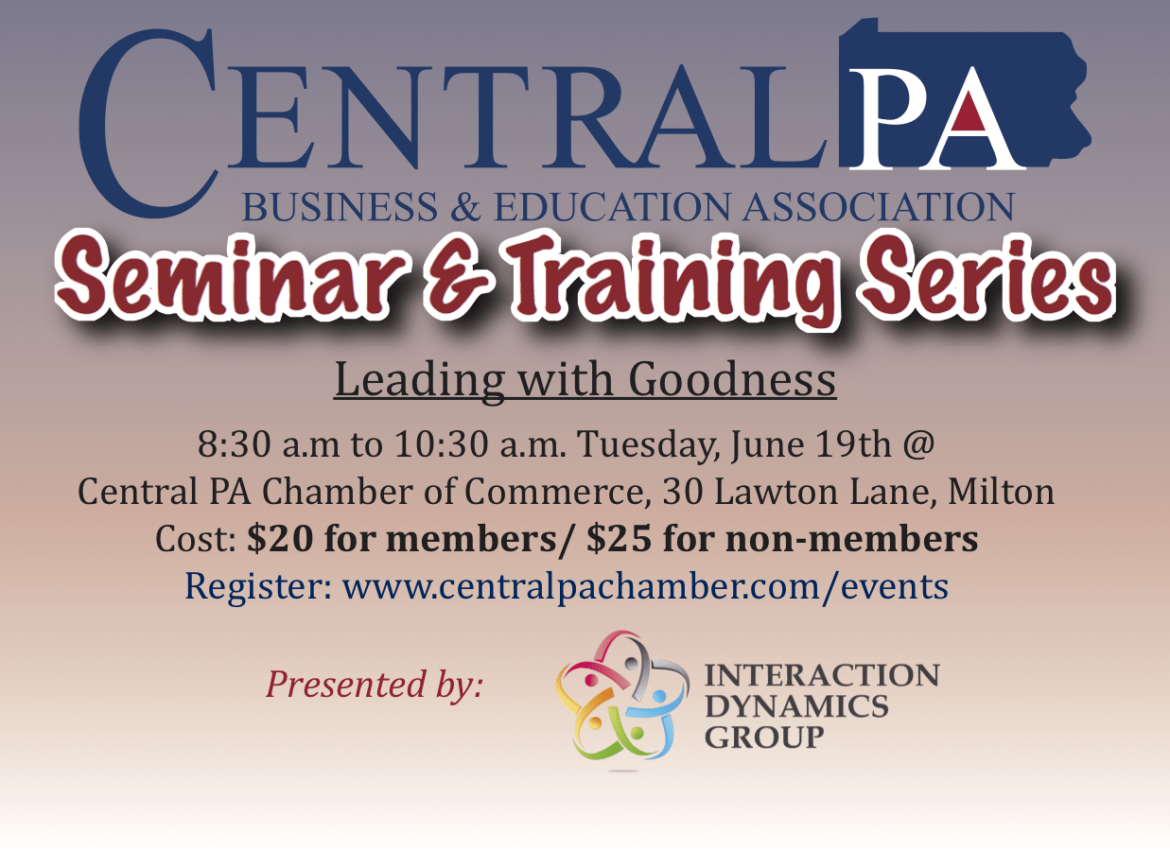 MILTON – You ask and we deliver!
In the membership survey released at the beginning of the year, we asked what topics members would like covered in the Seminar & Training Series. One of the most requested topics was "Leadership."
To meet that request, the Chamber is pleased to introduce a series of leadership workshops led by fellow member Dr. Kevin Sensenig, President of Interaction Dynamics Group. Kevin specializes in helping leaders radiate goodness every day by providing fun, facilitated learning experiences where both emerging leaders and seasoned leaders can learn through proven tools, interactive discussion and real-time practice. There will be five different workshops offered between later this month and November. Join us for one, or all five, to experience some of the tools that Kevin uses in his executive coaching practice to help leaders take their performance to the next level. Central PA Chamber members are also being offered a special incentive. Sign up for one workshop, and all subsequent workshops are offered at a $5 discount! Click on the "Events" tab to register.
Leadership Workshop Schedule:
June 19 – Leading with Goodness: How to attract the best talent and engage the best clients to achieve outstanding results
The challenges of good leadership today continue to mount: the speed of information is making us dizzy! Doing more with less is no longer a cliché. Many of our work/life pressures are wearing us thin. This session will help you: • Develop a personal plan to guide your leadership growth • Learn how fear impacts your effectiveness • Identify how to build relationships and make decisions on the Cornerstones of Goodness©: rewarding excellence, living generously, promoting fairness, and spreading positivity • Use the Good Leadership Benchmark to build development strategies that will last a lifetime The result: A positive, forward-looking development plan to help you become more magnetic to the best talent, and more attractive to the best customers in your world.
August 23 – Leading Teams: How to build and sustain positive momentum within your team
How often is anything significant really accomplished alone? Team leadership is dynamic, challenging, and critical to the success of any thriving organization. The best teams accept team leadership as a shared responsibility – not just the burden of the hierarchical leader. This session will help you: • Recognize how the structural and relational elements of team momentum are alive in team performance • Learn from the experience of other leaders to quickly improve team leadership • Diagnose and make suggestions for team improvement when performance lags behind expectations • Build plans and solve the most difficult problems by leveraging the best of your team The result: Forward team momentum, accelerated careers, magnetic energy that attracts the best customers and talent, and improved performance!
September 11 – Coaching Others: How to develop your team members to the next level
Good leaders recognize that positive coaching helps people imagine what's possible and create a plan to achieve it. Personalized coaching development improves confidence, motivation, and sustainable behavior change, resulting in better performance, team alignment, talent retention, and magnetic energy with customers. In this session, you will build skills which can be cultivated and multiplied, producing alignment, and accountability within your team. You will focus on creating great results by motivating others to reach their highest potential. By strengthening your coaching skills, this session will help you: • Retain and develop your best talent • Build accountability, alignment, teamwork, and trust within your team • Help you team focus on consistently meeting (or exceeding) financial expectations • Have mature conversations with your team members about critical topics The result: An energized team focused on a future exciting picture of what could be and what should be achievable at the next level of performance.
October 25 – Leading Change: How to engage your team so they embrace new ideas and take action on new directions
Scientists have proven that change is typically greeted with negativity. This negativity results in lack of team alignment, internal fighting and passive resistance – the most expensive waste in an organization. The key to combating this reaction is to help people understand how they can feel like "winners" early in the cycle of change. In this session, we will discuss tools and approaches to help you navigate leadership change or process redesigns and unite your team to help them break through barriers rather than hit a brick wall. This session will help you: • Apply the Head – Heart – Hands method for leading change: a process of explaining the intellectual reasons for change, emotionally enrolling individuals to commitment, and empowering teams to be involved in planning. • Maintain personal resilience through times of change. • Gain insight into how change can help you grow into the leader you aspire to be. • Create a tailored plan, with practical Step Up Challenges, to help you lead change effectively. The result: Powerful team camaraderie, alignment, and improved overall performance during times of change.
November 13 – Influencing without Authority: How to achieve desired results in situations you control and in situations you don't control
When good leaders work together with good intentions great things are possible. Working together is the only way you are going to grow your businesses and create a hopeful future. Learn how to create momentum for your ideas, and secure the commitment of resources beyond your control. This session will help you: • Embrace an environment of collaboration. • Let go of traditional ways of influence that often don't work. • Understand what's required to influence up, down, and sideways in your organization. • Build strategies to influence beyond just using direct authority. The result: A positive, forward-looking development plan to engage the right people in the right discussions for the benefit of the organization.