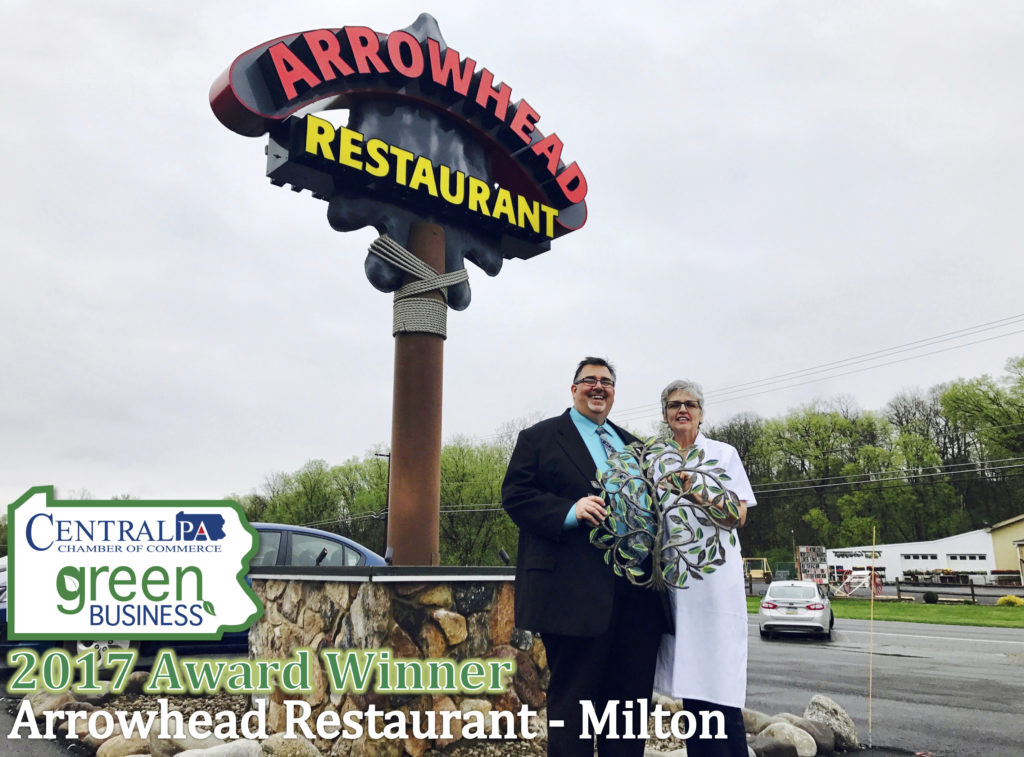 MILTON – A longtime Milton staple has been named the 2017 Green Business of the Year by the Central PA Chamber of Commerce.
Now an Earth Day tradition, the Central PA Chamber staff awarded the Arrowhead Restaurant for its ongoing "green" efforts. The award was presented to owner Annie Hackenberg. She was honored to receive the award Friday, April 21. Earth Day, April 22, falls on Saturday this year.
"I'm shocked…wow," Hackenberg said, as she stepped out of the kitchen area.
She went on to share some of the ways on how the Arrowhead strives to be green.
"Some of the things we do is using Single Stream Recycling, and we've gone to all LED lighting to reduce power usage," she said, next to the garden they tend on the backside of the building. "We've switched from electric to gas appliances."
In addition, the Arrowhead reduced the magazines and other paper delivered to the restaurant, and even the grease from the fryers and grill is recycled.
The idea of being green extends beyond Hackenberg, as the staff is routinely trained on good practices and the public is also encouraged.
"We've asked the public to be greener and think about our waterways, streams and rivers," Hackenberg said. "All we need to do is pick up one piece of trash.
"One piece of trash with every human being will make the earth a greener place."
This is now the fifth year the Central PA Chamber of Commerce has named a Green Business of the Year. Previous winners are: 2016 – Lawrence J. Winans, DMD, Lewisburg; 2015 – Hometown Disposal, Sunbury; 2014 – Central Susquehanna Community Foundation, Berwick; and 2013 – Warrior Run Petcare Center, Watsontown.
How did the Chamber staff know these members were being green? They told them!
Members are encouraged to sign-up for the Green Business designation anytime during the year, and at the same time, apply to be the next Green Business of the Year.
If you have filled out the application in the past, you are strongly encouraged to do it again, especially if your "green" efforts have "grown."
You can find the form at www.centralpachamber.com. Find "Green Business Recognition" under the "Membership" tab on the homepage.
The award is an indoor/outdoor hand-painted tree, cut from the lid of an old oil drum. It also includes a plaque. All winners also appear on the painted tree inside the Central PA Chamber office, 30 Lawton Lane, Milton.
The Central PA Chamber of Commerce's Green Business Recognition Program has been created to showcase the environmental efforts of member businesses and individuals. Through the implementation of this program, the hope is to encourage green business practices throughout the Central PA region.