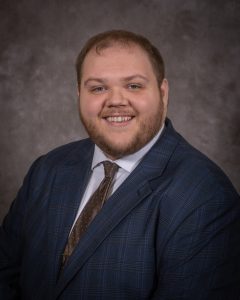 MILTON – Michael Porter, who has served as the Education Coordinator for the Central PA Chamber of Commerce and it's Central PA Business & Education Association for nearly five years, has accepted a new position with Penn College of Technology in Williamsport.
His final day is Friday, March 11, and the Chamber will begin immediately seeking a suitable replacement for the open position. Anyone interested in applying should send a resumè via e-mail to President & CEO Tea Jay Aikey at tjaikey@centralpachamber.com. Please, no phone calls.
"It is with mixed emotions of happiness, and heartache, that I accepted his resignation," Aikey said. "To say that we are like a family at the Central PA Chamber is incorrect – We are a family, not like a family.
"I am so incredibly excited for Michael and his new employment opportunity. I know that he will be a huge asset to his new employer and team."
During his tenure, Porter assumed the responsibilities of the Education Coordinator, which included overseeing the long-standing and successful Building Leaders for the Susquehanna Valley (BLSV) program, School Counts!, career fairs and more. He brought about a new level of success to fundraising for the Central PA Business & Education Association (B&E), including new revenue streams, events and grant writing.
He also experienced what would be considered the most trying time to maintain school and business relationships when the COVID-19 pandemic began. Porter worked tirelessly to bring students and employers together through virtual means. And, he also expanded opportunities for Seminar & Training Series classes.
"I am so grateful for the experiences and the people I have met over the past four and a half years with the Chamber," Porter said. "The relationships I have built with the Chamber staff, board of directors and the membership have impacted me tremendously and helped make me into the individual I am today.
"It is my hope that through my role in the Chamber that I have been able to make a difference in the lives of many students in our region in helping them to determine what the future holds for them."
Aikey added that Porter has, "definitely left the programs of the Central PA Business & Education Association better than he found them. Michael has grown so much as an employee, leader, friend and work family member over his tenure with the Central PA Chamber.
"Best wishes to he and his wife on this new journey."