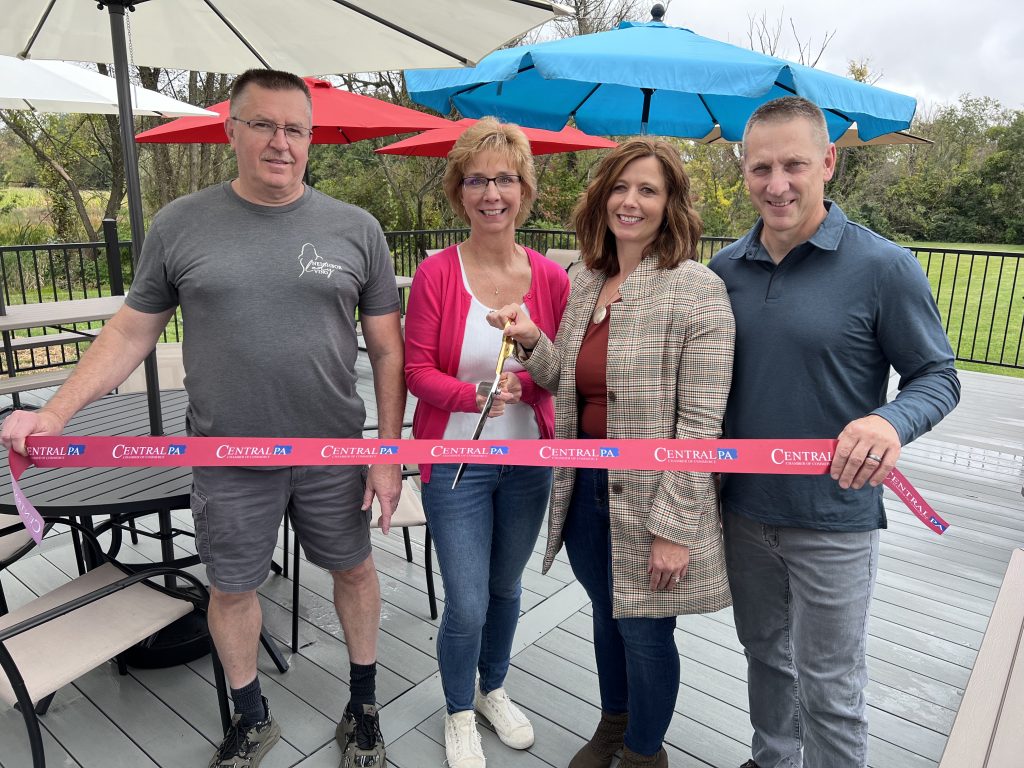 Congratulations to, from left, Buzz and Naomi Reed and Tonya and Kirby Smith, owners of Neighbor Lady Vino in New Columbia on their recent deck expansion. The winery is less than two years old and is experiencing consistent growth. The couples went into business together believing in Buzz's wine-making abilities over the years. Each play a different role in supporting the young business.
NEW COLUMBIA – Congratulations to Neighbor Lady Vino on its new deck expansion!
The Central PA Chamber of Commerce helped them celebrate with a ribbon cutting ceremony on Friday, Sept. 29, at 214 Tabernacle Road (along Old Route 15), New Columbia. It's now being followed by a "deck party" weekend through Sunday, Oct. 1.
Owners and friends Buzz and Naomi Reed and Kirby and Tonya Smith opened the winery less than two years ago, encouraging Buzz, the winemaker, to share his craft with the public.
"We found this building, and it is a great location," said Kirby Smith who travels with Tonya from Bloomsburg every week. The Reeds lives in nearby Milton, which is ideal for the wine maker. "It's been a great thing to get together, and it's been really fun bringing it up."
The Smiths and Reeds look forward to many more good years and good wines.
Whether you have a reserved palette or are the novice wine drinker, NLV offers wine for all tastes, including a specialty in dry reds but also sweet wines. Buzz Reed has almost 20 years of experience, creating nearly 40 wines for friends, families and neighbors to enjoy.
For more information, visit: www.neighborladyvino.com.
Find more pictures on the Central PA Chamber of Commerce's Facebook and Instagram pages.