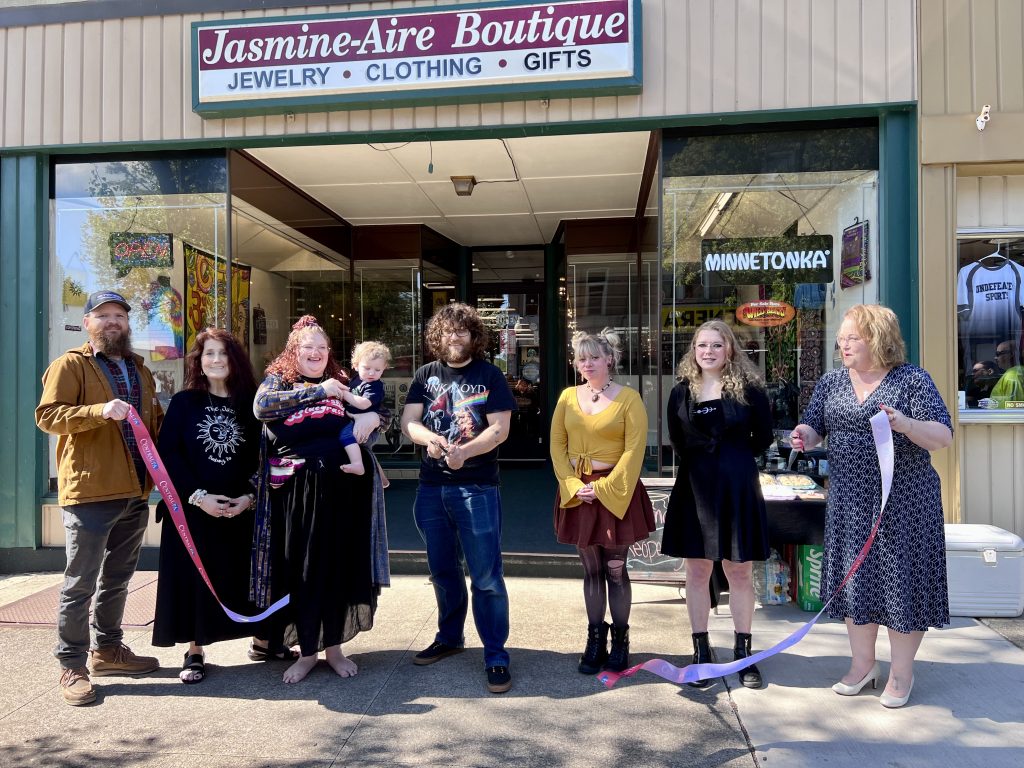 Ray Sterner, co-owner of Jasmine-Aire Boutique in Sunbury, cuts the ribbon May 5 to celebrate a grand re-opening, surrounded by family, staff and supporters. From left: Skyler Herb of Skyworks Equipment Rental and Central PA Chamber of Commerce Board of Directors Chairman; Nik Alarez, Jasmine-Aire Boutique team member; co-owner Nova Sterner, holding her and Ray's son, Dylan; Ray; Fawnda Libby, team member; Hannah Frye, sales manager; and Tea Jay Aikey, President & CEO of the Central PA Chamber.
SUNBURY – Ray and Nova Sterner were already excited to buy a long-standing Sunbury business, but they've become awestruck by what it means to the community around them.
In April of 2022, the Sterners purchased Jasmine-Aire Boutique from Kenneth "Kenny" Romberger, who founded and owned the store for 53 years at three different locations in the city. It's been at 415 Market St. since 1989.
The Central PA Chamber of Commerce helped them celebrate this transition with a ribbon cutting ceremony Friday morning, May 5, to launch the official grand re-opening of the Sunbury staple.
"When we bought the place, we had an idea of what it would mean to us, but we really didn't understand what it meant to the community," Nova said. "Everyone has grown up with this place, and that has really become the most important aspect for me in making sure that this place keeps going."
Ray expressed a lot of gratitude for Kenny, who was in attendance, and the legacy he built.
"We're also really thankful for the city of Sunbury and the customers that have been coming in over the last year and how supportive they are," he said. "They share a lot of great memories of the place.
"It's been amazing."
The Sterners are even keeping some history alive. If you head toward the changing rooms, you can find original signage that was restored, as well as newspaper clippings, vintage advertisements and more.
Romberger, who is now fully enjoying retirement, said he believes the new owners will do well for years to come.
Jasmine-Aire Boutique is a "one-stop shop with a little bit of everything," and there are specials and perks running during store hours through Sunday, May 7. Find details on their Facebook page and learn more about their offerings at www.jasmineaire.com.
Additional photos from the ribbon cutting can be found on the Central PA Chamber's Facebook and Instagram pages.