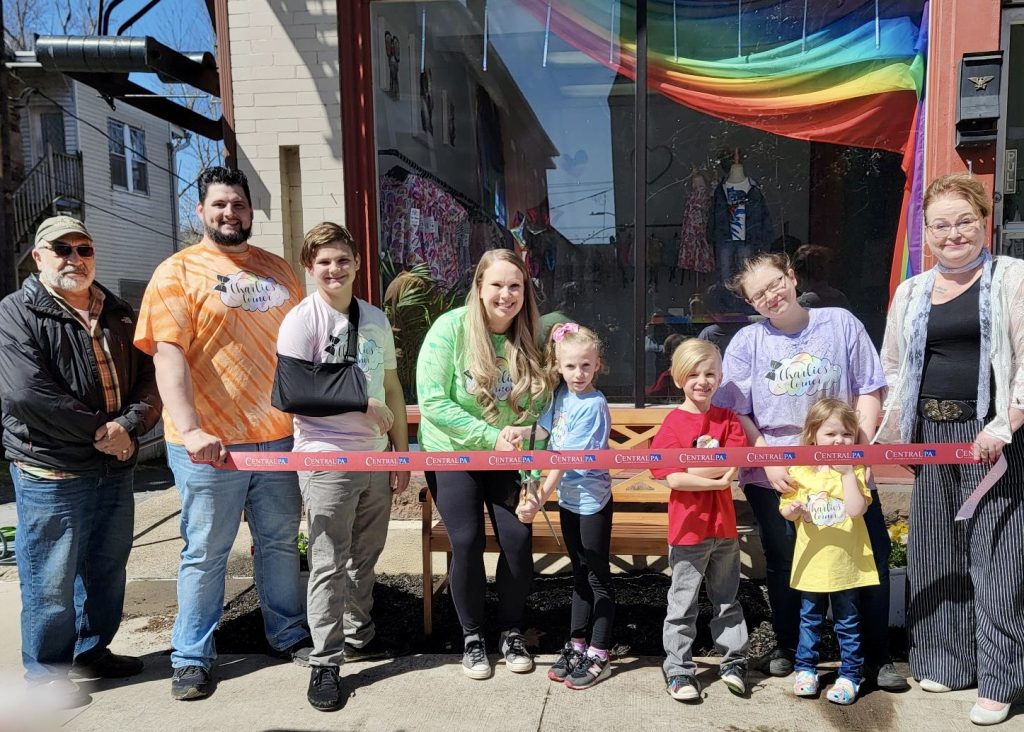 Preparing to cut the ribbon is Jennifer Reppert, owner of Charlie's Corner, and her daughter Charlie Reppert, for whom the store is named after. From left, are: George Venios, representing T.I.M.E. (The Improved Milton Experience); Michael Reppert, husband; Jackson Reppert, son; Jennifer and Charlie; Oliver Reppert, son; Kasey DeHart-Chappell, employee and Jennifer's best friend; Kaia Chappell, Kasey's daughter; and Tea Jay Aikey, Central PA Chamber President & CEO.
MILTON – Congratulations to Charlie's Corner in Milton, which celebrated its grand opening with a ribbon cutting on Saturday, April 1.
The Central PA Chamber of Commerce conducted the ceremony at noon in front of the store at 112 S. Front St.
Owner Jennifer Reppert was surrounded by her family and supporters as she cut the ribbon.
"Charlie's Corner was started during the midst of the (COVID-19) pandemic," Reppert said. "I left my job as a therapist to stay home with my children. I've always been known for the clothes and accessories I make my kiddos, so during the pandemic, I decided to start offering my goods online. From there, the business has evolved into what it is today."
The store is named after Reppert's daughter, Charlie, who herself came up with the name. She also decided on the color scheme of a rainbow because it's her "favorite color".
"It turned out to be a truly good fit for our family business as all three of my children are on the autism spectrum," Reppert said. "That is also why April was a perfect time for our grand opening, being the month of Autism Awareness and Acceptance."
At Charlie's Corner, they pride themselves on offering custom designed and handmade clothing and accessories. They partner with many local artists and help them grow their own businesses through the store.
"We hope to continue to grow and bring a fun-loving atmosphere for the growing downtown community of Milton."
Learn more at www.charliescorner.co and find them on Facebook. They have more weekend events on the calendar now.