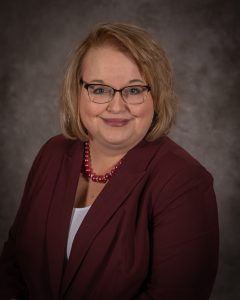 MILTON – Tea Jay Ailey, President & CEO of the Central PA Chamber of Commerce, has applied to be a Fellow in the 2020-21 Class of The Appalachian Leadership Institute.
The Appalachian Leadership Institute is a comprehensive leadership and economic development training opportunity for people who live and/or work in Appalachia and are passionate about helping their communities thrive.
The Appalachian Leadership Institute is limited to 40 Fellows annually, drawn from Appalachia's public, private and non-profit sectors. They will participate in an extensive training curriculum developed by the Appalachian Regional Commission (ARC) in partnership with the University of Tennessee, Knoxville; The Howard H. Baker Jr. Center for Public Policy; Tuskegee University; and Collective Impact.
According to ARC, Appalachia is a 205,000-square-mile region that follows the spine of the Appalachian Mountains from southern New York to northern Mississippi. It includes all of West Virginia and parts of 12 other states: Alabama, Georgia, Kentucky, Maryland, Mississippi, New York, North Carolina, Ohio, Pennsylvania, South Carolina, Tennessee and Virginia.
The all-inclusive, nine-month program runs from October – July and includes skill-building seminars, best practice reviews, and field visits during six separate sessions across the region and followed by a capstone graduation event held in Washington, D.C.
Fellows are chosen via a competitive application process and each class will include representatives from each of the thirteen states in the ARC footprint to reflect the region's diverse economic development challenges, opportunities and strategies.
"As one of my letters of recommendation stated perfectly, the additional skills and experiences I can access at the institute will enhance my 'toolkit' as I lead our region to continued smart growth and prosperity for years to come," Ailey said.
Over the past two years, the Central PA Chamber and its Milton Area Industrial Development Association (MAIDA) worked fervently to support a project providing tax incentives for businesses and manufacturers to relocate in Northumberland County, providing jobs and broadening the tax base.
"We coordinated with three local taxing bodies to support the Keystone Opportunity Zone," Ailey said. "The acquisition of the KOZ status was key to getting occupancy of a 120,000-square-foot manufacturing site that was vacant for more than 10 years. This project alone will create or retain over 60 positions and ensure an investment of $6.5 million in the Milton Industrial Park.
"It's my hope inclusion in The Appalachian Leadership Institute will allow me, and ultimately the Central PA region, to expand on our most recent successes."