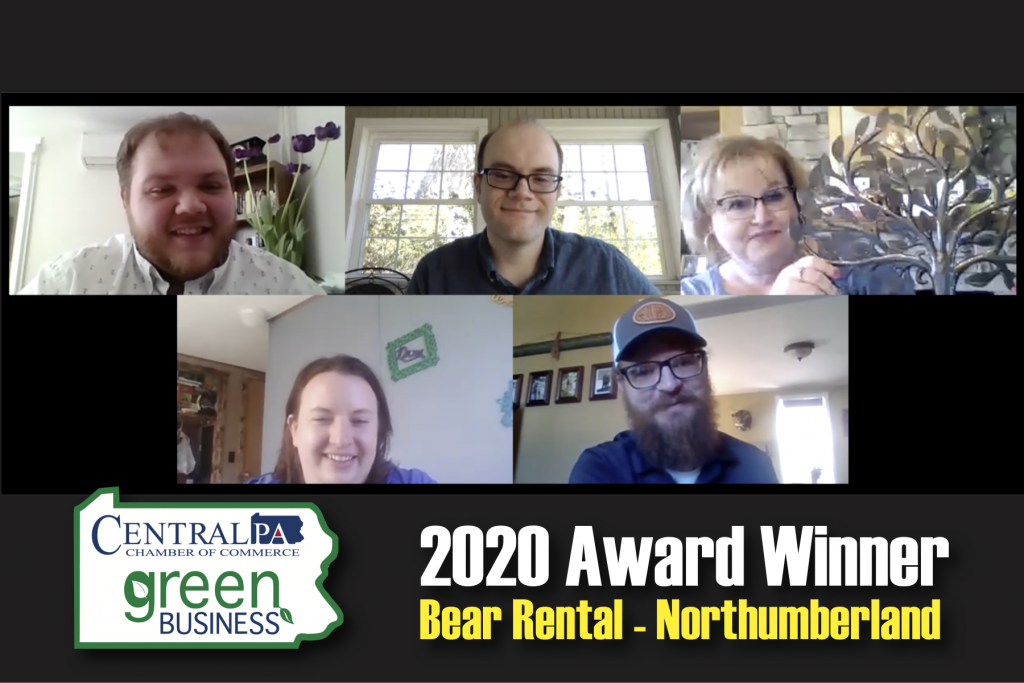 The Chamber staff presents the award to Bear Rental Manager Skyler Herb via a Zoom meeting Wednesday, April 22.
NORTHUMBERLAND – Bear Rental, a young venture of well-known Zartman Construction, Inc., has been named the 2020 Green Business of the Year by the Central PA Chamber of Commerce.
The Northumberland-based business provides rental equipment for anyone between weekend do-it-yourselfers and seasoned professionals completing a renovation project. They've also shown they can be "green" in their day-to-day business practices.
Bear Rental received the most points this year on the Green Business Recognition Application, which bodes well in receiving the honor.
Many people and businesses are in quarantine during the COVID-19 Crisis, but the Chamber still wanted to continue the tradition of presenting the award on Earth Day, which is April 22. 
Since the staff was unable to present the award in-person, they shared it with Skyler Herb, Manager of Bear Rental, during a Zoom meeting on Wednesday afternoon. The award is made from the top of a recycled steel drum container.
"I'd like to thank the (Central PA Chamber) for the recognition," Herb said. "Zartman Construction and Bear Rental do a lot with recycling and just trying to keep the planet 'green.'"
Bear Rental scored high in many of the program's categories, including: Solid Waste Prevention, Recycling, Purchasing and Energy & Water Conservation.
When you think about it, the rental business is a form of recycling. Instead of buying a tool that will be used once or twice before it ends up taking space in the garage, it can be shared among several users.
With spring underway, and hopefully the COVID-19 Crisis winding down, it will be prime time to take on some projects. Learn more about Bear Rental at www.bear-rental.com and find them on Facebook, where there are currently sharing several great gardening tips!
Previous winners of the Green Business of the Year, are: Columbia County Bread & Granola, Bloomsburg (2019); Pompeii Street Soap Co., Mifflinburg (2018); Arrowhead Restaurant, Milton (2017); Lawrence J. Winans, DMD, Lewisburg (2016); Hometown Disposal, Sunbury (2015); Central Susquehanna Community Foundation, Berwick (2014); and Warrior Run Petcare Center, Watsontown (2013).
Thank you to all Central PA Chamber members who completed the Green Business Recognition Application. You do not make the Chamber staff's decision easy. For those who haven't completed the form, visit www.centralpachamber.com and look under the "Membership" tab. Who knows, you may be next year's winner!
Green Business is good business! In addition to helping the environment, it can save your business money, and your customers and employees will value your efforts.