We're sorry, but all tickets sales have ended because the event is expired.
February 1, 2021




9:00 am - 12:30 pm
Register for a link to this event to be sent to you, details about this event are listed below: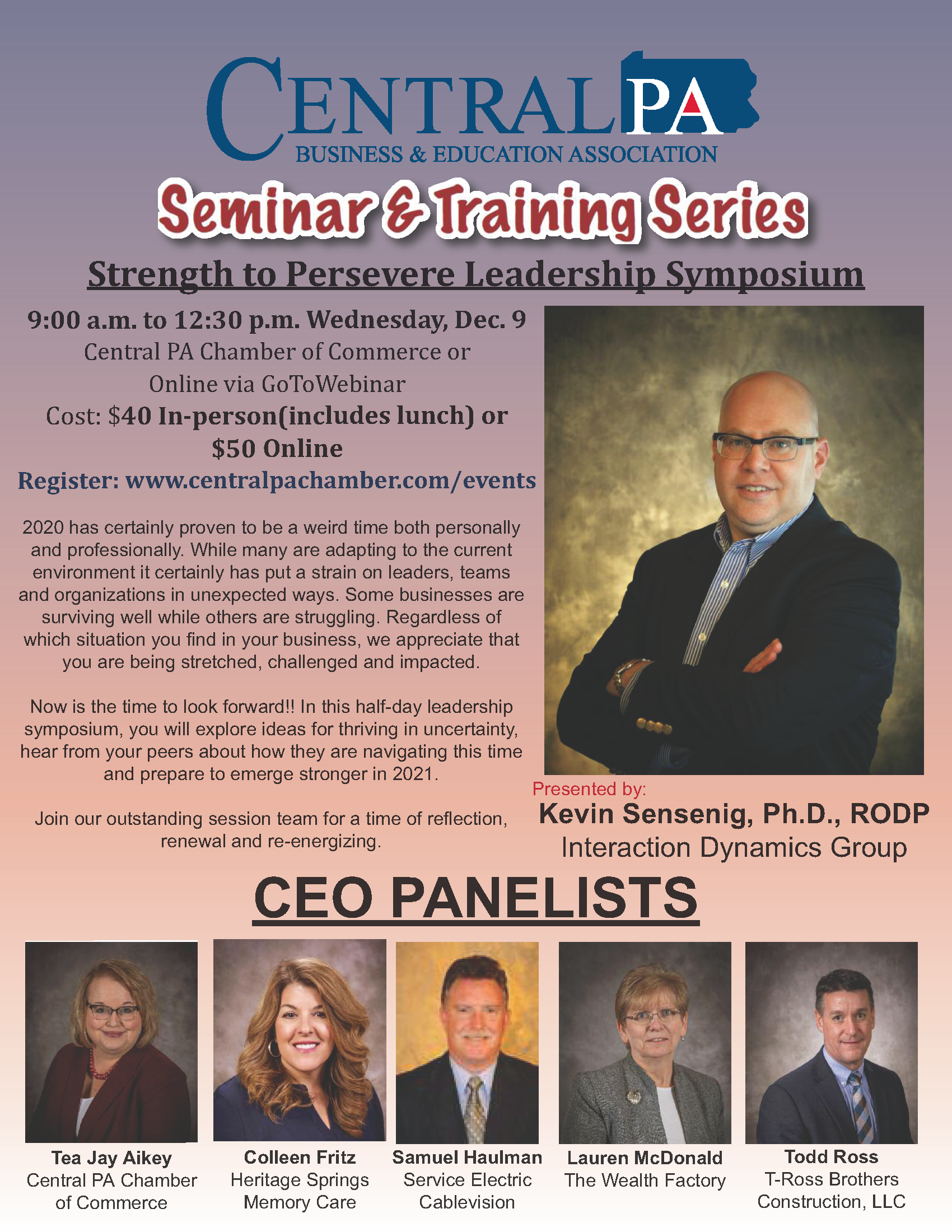 2020 has certainly proven to be a weird time both personally and professionally. While many are adapting to the current environment it certainly has put a strain on leaders, teams and organizations in unexpected ways. Some businesses are surviving well while others are struggling. Regardless of which situation you find in your business, we appreciate that you are being stretched, challenged and impacted.
Now is the time to look forward!! In this half-day leadership symposium, you will explore ideas for thriving in uncertainty, hear from your peers about how they are navigating this time and prepare to emerge stronger in 2021. Join our outstanding session team for a time of reflection, renewal and re-energizing. Our panel includes:
Session Leader: Kevin Sensenig, Ph.D., RODP
Kevin is the President of Interaction Dynamics Group and a Central PA Chamber Member. He has been working with organizations to navigate this time of uncertainty both domestically and globally. Most notably, he has been working with the Big Ten Conference as they have faced the well-publicized decisions and implications regarding college athletics.
Kevin will be sharing concepts related to Thriving in Uncertain Times and Preparing to Emerge from this time Stronger as a leader, team and organization.
CEO Panel
TeaJay Aikey, CEO, Central PA Chamber of Commerce
TeaJay will share how the Chamber has dealt with the pandemic environment while staying focused on members and continued service.
Colleen Fritz, CEO, Heritage Springs Memory Care
Colleen will share how Heritage Springs has handled the COVID crisis as a resident care facility and worked through the difficult decisions required to keep residents, care givers and the community safe.
Todd Ross, CEO, T-Ross Brothers Construction
Todd will discuss the challenges of supporting a larger employee base in the region while continuing to move important projects forward.
Schedule for the Day:
9 – 10 a.m.                                                                                                          Thriving in Uncertain Times Seminar
15 Minute Break
10:15 – 11:15 a.m.                                                                                                                                                  CEO Panel
15 Minute Break
11:30 a.m. – 12:30 p.m.                                                         Emerging from Uncertainty Stronger than Before
Venue Phone: 570-742-7341
Venue Website: www.centralpachamber.com
Address:
30 Lawton Lane
,
Milton
,
Pennsylvania
,
17847
Description:

My venue content