We're sorry, but all tickets sales have ended because the event is expired.
February 12, 2021




7:30 am - 9:00 am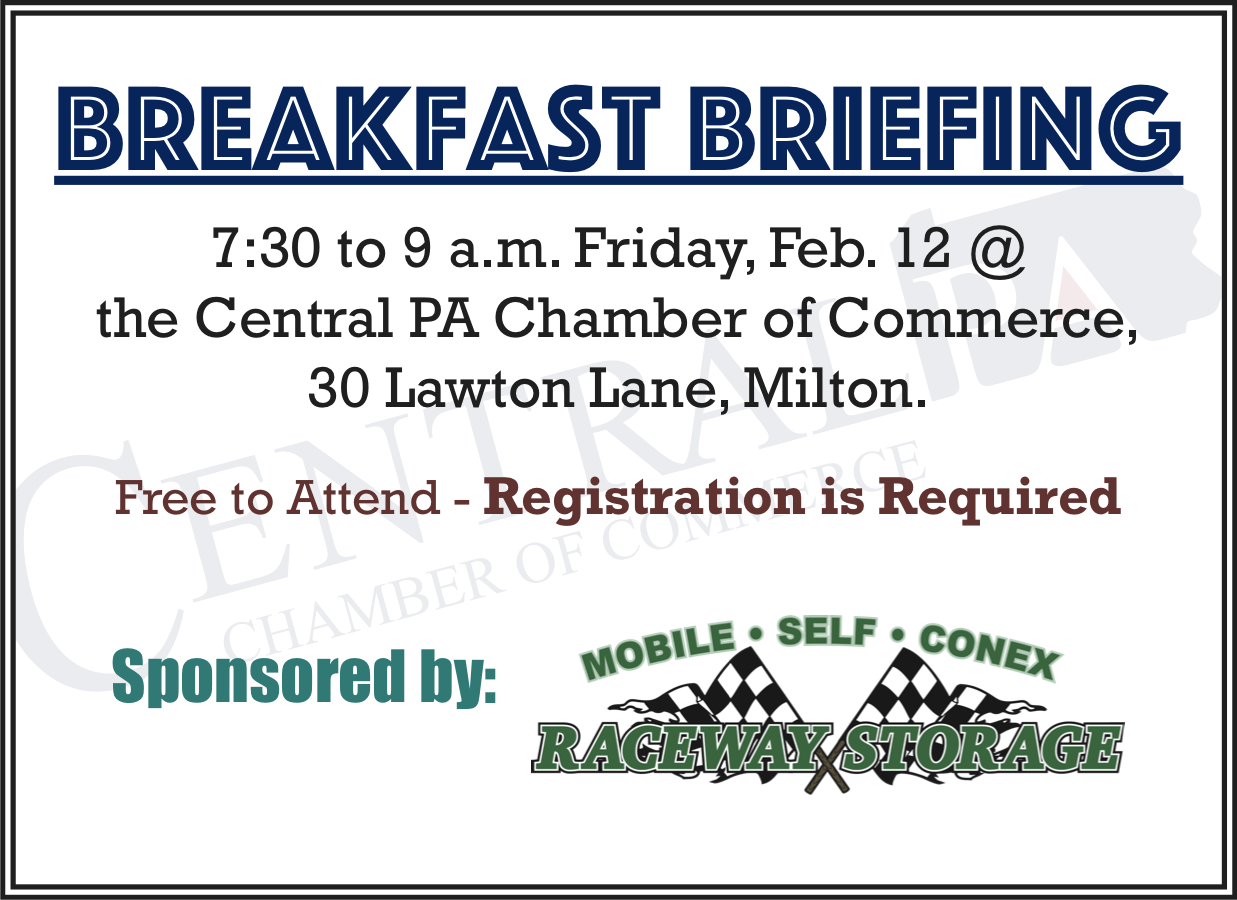 The Chamber offers a morning networking breakfast for Chamber members and their employees and for prospective new members. Refresh your knowledge of Chamber activities and benefits or come and meet our new members.  Attendees have the opportunity to give a 28 second elevator speech about their company. The sessions are held from 7:30 am to 9:00 am at the Chamber office and are free to  attend. Each Breakfast Briefing will begin with a breakfast buffet at 7:30 am followed by a presentation at 8:00 am. The program will end promptly at 9:00 am. This event is limited & registration is required.
Helpful tip:
If you are registering more than one person for this event. Consider sitting at different tables for optimal networking! 
Partnering Sponsor for this event:
RACEWAY MOBILE STORAGE
Recently, the Central PA Chamber of Commerce has been asked how it's been able to host in-person events, as recently as Dec. 4 with a Breakfast Briefing.
Since reopening its office in the beginning of June, the Central PA Chamber has requested all members and guests of its facility to follow all official state/federal guidelines related to COVID-19. This has continued through to the present time. For instance, face coverings are worn by guests, who are given the option to remove them while seated and eating breakfast, similar to how it works in a restaurant setting.
At the event, upon arrival there is hand sanitizer available not only at registration, but where the gathering occurs, too. Bathrooms are also conveniently located for hand washing.
In addition, breakfast is served by staff only, who are wearing masks and gloves the entire time they are around the food. Utensils are individually wrapped and only handled by the individual guests. In addition, the beverage area is located in a different room. This also helps avoid the chance of a line forming.
In "The Smith Training Center", where the event is held, tables are spaced out to promote social distancing. Overall attendance at this event has been drastically reduced to keep with the state/federal COVID-19 guidelines.
Just recently, a Licensed Practical Nurse (LPN), who regularly attends the Breakfast Briefings, made a comment after attending the most recent event.
"I enjoy the Breakfast Briefings that you and the staff hold regularly. It is so important and very difficult in this time of COVID to keep in touch and be able to market safely. I applaud your efforts and dedication to keeping all members and visitors who attend safe and protected. I find myself comfortable with the way you have set things up. "Thank you, again, for providing a safe environment for me to continue to network. I appreciate it!!!"
If you should have any questions or concerns about any activities at the Central PA Chamber of Commerce you are always encouraged to contact President & CEO Tea Jay Aikey at 570-742-7341.
Venue Phone: 570-742-7341
Venue Website: www.centralpachamber.com
Address:
30 Lawton Lane
,
Milton
,
Pennsylvania
,
17847
Description:

My venue content