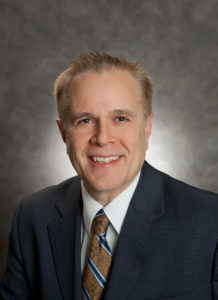 Dale Moyer, Interim President & CEO
As Interim President & CEO, Dale is responsible for the daily operations of the Central PA Chamber and its family of corporations. He works in conjunction with the Chamber's Board of Directors, Committee Chairs, Chamber affiliates, school districts, area business leaders and community partners.
Dale joined the Chamber on the Board of Directors in 2014 and was elected Board President in 2017. He is also the Vice President of Information Systems/CIO at Evangelical Community Hospital. Dale has been employed at Evangelical Community Hospital since 1981 and has served various roles in the organization during that time. His clinical, management, financial and administrative experience over 35 years give him a unique perspective in helping relate to members, coworkers and officials at the Chamber.
He is a graduate of Hughesville Area High School, Robert Packer School of Radiologic Technology, Mansfield University and St. Joseph's College with a degree in Healthcare Administration.
In addition to serving on the Chamber Board of Directors, Dale also serves as the Treasurer of the Members Choice Financial Credit Union and Vice Chair of the Albright Care Services Board of Directors.
Dale and his wife, Kathy, live in Selinsgrove. They enjoy traveling and seeing what the world has to offer, and just enjoying spending time together. Dale is also a Team Owner and huge Green Bay Packers fan!