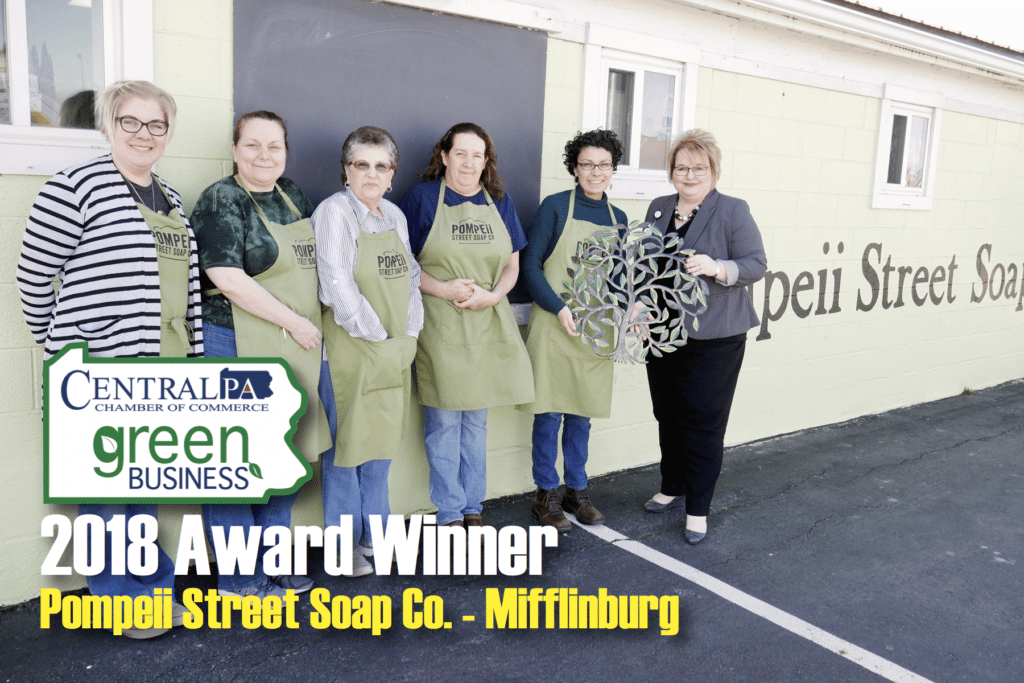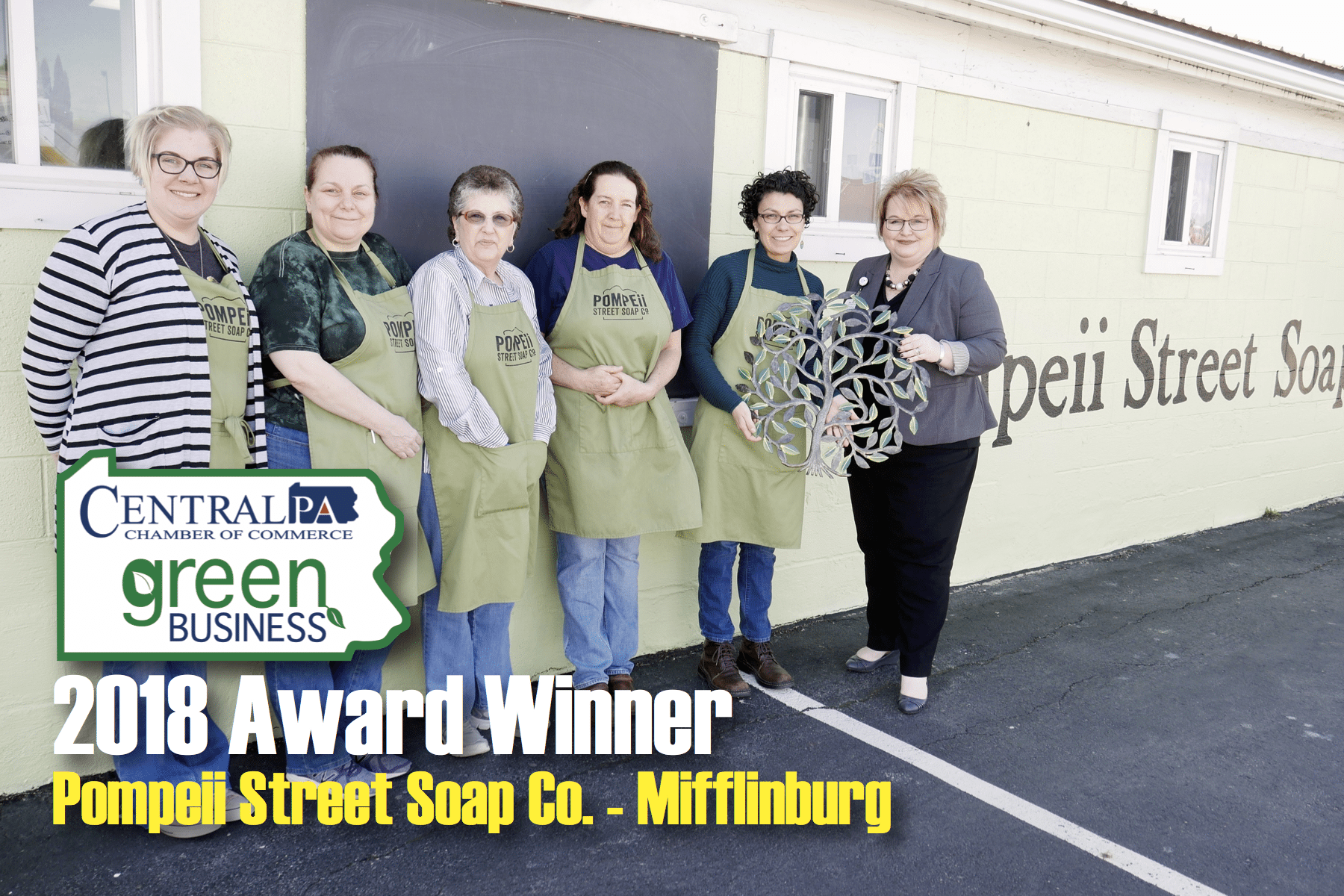 Tea Jay Aikey, President & CEO of the Central PA Chamber of Commerce, presents the 2018 Green Business of the Year Award to the team at Pompeii Street Soap Co., 201 E. Chestnut St., Mifflinburg, on Friday, April 20. From left: Michelle Miller, e-Commerce Specialist; Kelley Conrad, Manager; Diana Schreck, Packaging Specialist; Dawn Hartman, Formulator; and Jessica Grill, Owner; and Aikey.
MIFFLINBURG – Congratulations to Pompeii Street Soap Co., the Central PA Chamber's 2018 Green Business of the Year!
The Chamber staff selected Pompeii from among dozens of Green Business Recognition applications. On or around Earth Day each year, the staff visits and surprises the winner.
All members of the Central PA Chamber are encouraged to complete the Green Business Recognition application and to re-apply when their "green" efforts have grown. Applicants can score points in several key areas, and they are welcome to share any additional information.
In addition to a high score, Pompeii shared that it strongly recommends green cleaning practices through its Pompeii Organics line. Green Cleaning classes are offered every year to teach customers how to remove toxic chemicals form their homes and replace them with eco-friendly, natural cleaners. Also, they have implemented a refill policy for liquid soap bottles that allow customers to bring in their empty bottles for a refill at a reduced cost.
Green Cleaning Classes are coming up soon. The first is 1 to 5 p.m. Saturday, May 20. The second is 1 to 5 p.m. Saturday, July 21. Register in-store or online at www.pompeii-street.com/workshops. The cost is $75, and students make seven cleaning products.
Pompeii has customers near and far. For those they ship to, the products are packaged in biodegradable packing peanuts, which are potato-based. In addition, they use recycled gift bags and wrap.
"I am thankful to my team of employees for their commitment to our common goal of reducing waste and practicing our ongoing effort to be eco-friendly," said Jessica Grill, Owner. "As a team, we share the pride in our natural products because they are not only human healthy, they are environmentally healthy as well.
"In the past year, we have been diligently working towards more eco-friendly practices in all parts of our business, from kitchen to customer."
This is the sixth year the Central PA Chamber of Commerce has given the award. Previous winners are: Arrowhead Restaurant, Milton (2017); Lawrence J. Winans, DMD, Lewisburg (2016); Hometown Disposal, Sunbury (2015); Central Susquehanna Community Foundation, Berwick (2014); and Warrior Run Petcare Center, Watsontown (2013).
Thank you to all Central PA Chamber members who completed the Green Business Recognition application. You do not make the Chamber staff's decision easy. For those who haven't completed the form, visit www.centralpachamber.com and look under the "Membership" tab. Who knows, you may be next year's winner!
Green Business is good business! In addition to helping the environment, it can save your business money, and your customers and employees will value you efforts.